Porno Gets Teacher Sacked!
May 5, 2015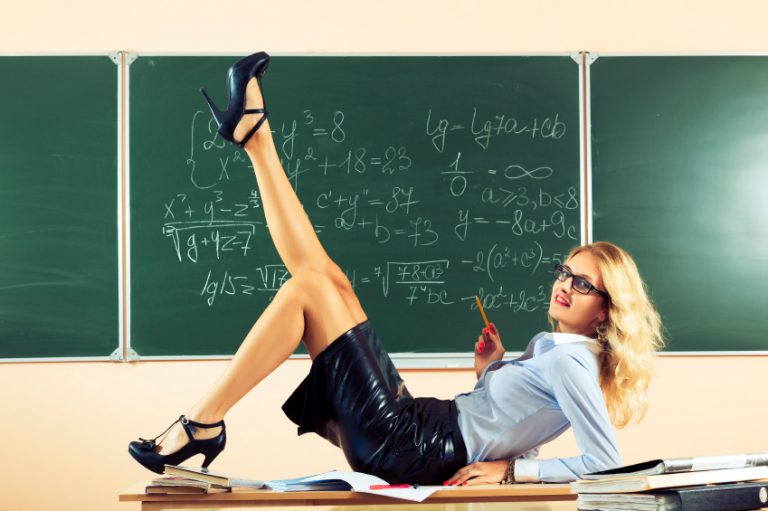 ---
If you know any teachers, you'll know how hard their jobs are: meetings with parents, marking students' work, and generally getting through the day in one piece. Of course, it can be made even harder for them if they film a sex tape that their students find and share with others.
For one unlucky Czech teacher, she found herself losing her job, after a 40 minute porno of her was found by some of her students, which then made its way to parents and other staff at the school. Yikes!
The casting couch
The porno itself is a typical casting couch style set-up. The woman comes in, believing she is auditioning for a job as a toned and fit underwear model, but is actually auditioning for porn and they fuck her then and there.
The woman herself travelled from the Czech Republic to Prague to attend the casting call, and at the beginning of the video can be heard telling the interviewer that she is separated, has two children, and is really interested in health and fitness.
We then see how much she cares for her body when she strips down to her underwear, showing off her abs, and then to nothing at all. She lies on the couch and starts rubbing oil all over her body.
The video then quickly has the woman being pleasured by a random man, who then orders her onto her knees to suck his cock. The 40 minute porno then shows her in many different positions as she fucks and is fucked by the man.
Sexy teacher
We've probably all got fantasies about a sexy teacher we used to have a huge crush on, and many of us will have jerked off or rubbed one out while thinking of their sexy ass in the classroom.
However, for this unlucky woman, she was actually a teacher, looking for an extra job to earn a little more money on the side to treat herself. Maybe not the best place to go looking for a job, but with a body like hers we can understand why she did it!
Unfortunately, her raunchy video was found by some of her pupils, who couldn't believe their eyes at the things their teacher was doing to a stranger! They began to share the video around between their friends, and word began to spread about what this woman had done.
Eventually, a parent found the video. Whether that is by catching their child watching it or by "accidentally" stumbling across it themselves, we don't know. Either way, they weren't happy with what they saw and immediately told the school all about it.
Caught out!
One of the parents of a student at the school told the Czech news website IDNES that "I do not want to judge the teacher because I do not know why she did it. But it is not all right when 15-year-old children see it and gossip about it."
They have a point there, and go on to explain that "she had intercourse with a complete stranger for money in front of the camera and that is not in accordance with the educational role which should be offered by teachers."
Obviously, hearing this news wasn't good for the parents of students, believing that someone in a position of care, like that of a teacher, shouldn't be going off to make porn videos on the side.
The head teacher of the school, Petr Jonas, stated that "as soon as we learnt about this we had no other choice than to say goodbye to her." As a result, the woman lost her job as a teacher.
Were drugs involved?
It's a sad story, that a woman was sacked for making a porno. It's a sign to keep your intimate videos private, and only have them for your entertainment. You never know who is going to find it!
However, the woman has hit back at those who make the film, stating that "I was looking for an extra job and I found some advertisement looking for toned figures for a photo shooting. I thought it was for underwear."
Not only has she suggested that the purpose of the photo shoot was a lie, but she also believes that she was drugged.
"I think they drugged me with cocaine. I am sure that something was there. My behaviour was changing and I felt very relaxed and comfortable. I would not be able to do something like this in normal circumstances."
Changes things
It could be that the woman was caught up in the moment and found herself making a porno, not realising just how public the video would become. Imagine if she started making more as the porn star who actually used to be a real teacher! She'd make so much money, like the woman who worked on Wall Street and left to become a porn star.
However, the fact that she has suggested she was given drugs at the photo shoot does raise some alarm bells. If that is true, then the film makers are clearly in the wrong, as the entire video that cost the woman her job might never have happened in the first place!
What do you think about this? Should she be embracing her new role as a porn star, or should she fight back against those who took away her job? Would you watch the video, given the suggestions that have been made about the making of it?
You can let us know what you think about this story by writing your thoughts in the comment box below. Did she deserve to lose her job for this, or should what people get up to on camera make no difference to their day job? Join the discussion and let us know what you really think. Latest posts by Lara Mills
(see all)
---