Small Penis Sex Positions You Need To Know
February 25, 2016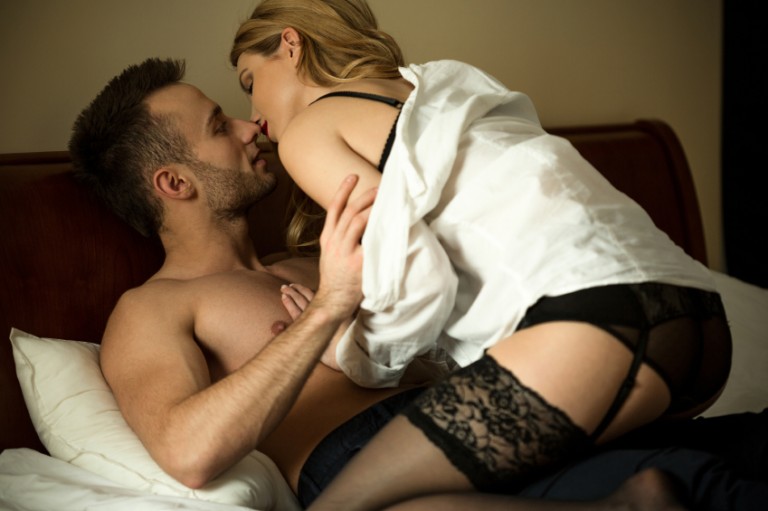 ---
Unfortunately, life isn't fair, especially when it comes to sex. Some of you won't have been blessed with a cock so big that it has its own gravitation field, and while people keep insisting that it isn't the size of your cock that matters, sometimes you just wish it was that little bit bigger. The average cock comes it at around 5.5 inches, which many believe is more than enough to satisfy, but what can you do if your dick is smaller than this? Why not change things up by looking at some of the small penis sex positions?
You don't need to have a mammoth dick to make her feel great in bed, and even if your cock comes in under the average size, there are still some things you can do to make her feel fantastic. Here on the XEscorts blog we take a look at some of the best small penis sex positions for you to try to make her feel full and get her screaming your name in no time!
Put her in control
No-one knows quite how to get a woman off like a woman. We women have spent years getting to know our bodies, touching ourselves and seeing what turns us on the most. We know just where to touch to get ourselves to cum, so if you want to get her off, put her in control.
The girl on top position is perfect for this. By letting her climb on top of you, she can find the best way to ride your cock and make herself feel good at the same time. She can change the angle, lean back to let your cock hit her g-spot, and get herself to orgasm that way.
Another little change you can make to this position is to get into reverse cowgirl. Not only does it give you a great view and make you feel a bit like a porn star, but you can also reach around and rub her clit, or she can rub it herself, ensuring everyone is happy.
Doggy style
If you love nothing more than staring at a sexy ass as you fuck, doggy style is a great position to try. It can really make you feel as though you are in charge, although a lot of the time, it is actually the person on the bottom controlling how hard and fast you go.
In the traditional doggy style position, the person on the bottom will get down on their hands and knees, sticking their ass into the air and arching their back so that you can get in really deep. If your cock curves a little, it can really help you to hit her g-spot, but sometimes you want to do something else to really make it feel incredible.
There are also a few simple changes you can make to this position to make it feel even better. Try leaning forward more to get your cock deeper. If this doesn't do the trick for you, get your partner to clench their legs together as hard as they can while you fuck them. This will make them feel as though your cock is really filling them up, and the tightness on your dick will be enough to get you to orgasm. The added benefit about this position is that, while your hands and grabbing her ass, she can rub at her clit and get herself to orgasm while you fuck her.
Her legs can make the difference
Where her legs are during sex can really make a huge difference to how big your cock feels to her. If you like to be in control and on top, getting her to extend her legs up and over your shoulders allows you to go deeper with each thrust, and it will feel great to her as your cock will be perfectly positioned to hit her g-spot.
Another great thing to do is to take things out of the bedroom. Why not fuck on a table? Get her to lie down on it before you and use your tongue and mouth to tease her. When you've gotten her warmed up, you can then get down to business and start fucking. This position lets you get nice and deep with each thrust, as you will probably be standing, and if you keep her legs over your shoulders, this will let you get even deeper.
As with the doggy style position, her legs can really make the difference. If she keeps them closed while you are inside of her, it'll feel as though you are filling her up, even if you haven't got a big cock. Plus, you can reach down and play with her tits and clit, and the view will be great!
Small penis sex positions
As you can see, legs play a big part in making her feel filled with cock, and by keeping them tightly clenched together, you can really feel as though you are filling her up. It feels great for her, and you can experiment with different ways to move her legs and fuck her to orgasm.
Of course, many of the small penis sex positions are very similar to the usual sex positions you'll find yourself in. The difference between these positions and the small penis sex positions is that you'll change the angle to increase friction and leave her feeling fantastic. Want to have her screaming for more? Simply have her keep her legs together and use your free hands to play with her tits and clit. It's a great way to get her off and show her just how much you want to make her cum.
Got some other great small penis sex positions that you want to share? You can use the comment box below to do so. Latest posts by Lara Mills
(see all)
---
---