The Birthday Threesome
June 5, 2015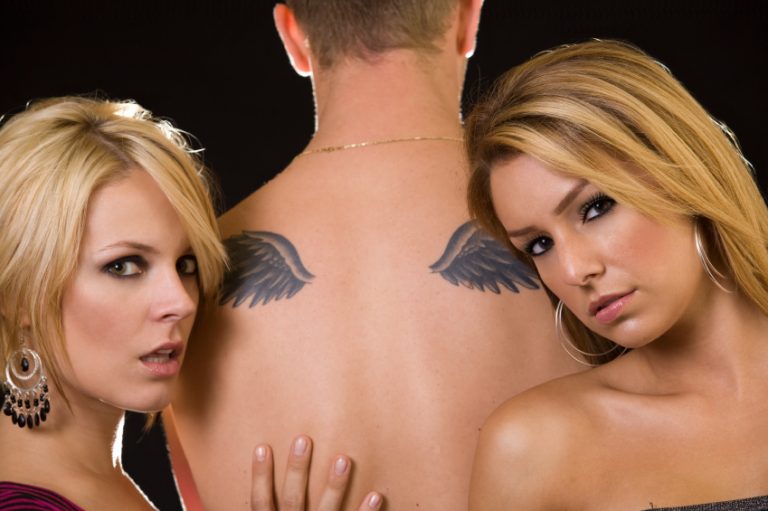 ---
Alan was worried. His wife had arranged a meal at a romantic restaurant for his birthday, followed by a night in a swanky hotel, but he knew that he wouldn't get sex. He couldn't remember the last time they had sex, never mind the last time they had good sex.
So he had resigned himself to the fact that he was going to enjoy a nice meal followed by a quick shower later where he could masturbate in peace before going to bed. He was just fixing the tie around his neck when Emily stepped out of the bathroom. She had been going to the gym, and that showed as her leg slipped out of the slit in her long black dress. Her legs were toned and her stomach was flatter that before underneath the dress. The black material hugged her hips and tits, and she smiled at Alan.
Alan felt his cock stir in his trousers and slipped off to the bathroom to quickly beat one out while Emily put her makeup on. The last time he'd tried to initiate sex when they were going out she'd scolded him for attempting to make them late.
A pleasant surprise
Half an hour later they arrived at the restaurant. It was a popular Italian and the place was pretty crowded, as you might for a Saturday night. Alan gave their name to the host who then checked the list and smiled. "The rest of your party is already here. Please follow me."
Alan looked at Emily as they walked behind him, "Party?" he asked, only to have Emily smile at him. He was feeling pretty angry right now as they dodged the many tables. He'd told Emily he didn't want a fuss, and yet she'd invited others to join them? This was turning out to be a pretty terrible night.
However, when the host stopped by a table, Alan wondered if there had been a mistake. There was someone already at this table, but it was someone he had never seen before. He was pretty certain he'd remember her, as sitting there in a silky red dress showing off a lot of cleavage was a beautiful blonde woman.
He opened his mouth to say something when Emily suddenly leant across the table and shook the woman's hand. Alan's mouth fell open as he stared at the woman. She turned her attention to him, holding out her hand, "Happy Birthday, Alan! I'm Nicola. I'm your date for this evening."
He wondered if this was some kind of trick, but he looked over at Emily as she ordered a bottle of wine for the table and noticed she had gone bright red. Alan slowly sat himself down between the two women, not quite sure if he could believe what was happening.
Almost as soon as he sat down Nicola stood up, smiling to them both and saying something about powdering her nose. As soon as she was out of sight Alan turned to Emily. "What is this?" he asked.
Emily blushed again, "I thought you'd like it?" she questioned, looking at him and lowering her voice to a whisper. "It's always been a fantasy of yours, hasn't it? A threesome?"
Trying something new
The rest of the meal passed by in a blur for Alan. He spent most of it not paying attention to what he was eating as he was too busy watching the way his wife and Nicola spoke to each other. They seemed to get along well, and whenever they shared a joke Alan allowed himself to fantasise about what was to come later that evening and the hot things they would do to each other.
It wasn't until they had checked in to their hotel room that Alan finally snapped out of it. Nicola passed him a dressing gown and told him that he should grab a shower while they got the room ready. He didn't need telling twice, and when he came back out of the shower in nothing but the bathrobe he found Nicola and Emily sitting on the bed together in their lingerie, waiting for him.
He sat down between them and they both began to kiss him, moving slowly along his neck. Emily kissed him on the lips and Alan had a hard time concentrating on the kiss while Nicola moved her way further down his body to his chest. She playfully bit at him and he gasped, watching his wife move down his body too and copy Nicola's movements.
His erection grew as the two sexy women worked their way down his body, and soon they were both kneeling on the floor on either side of him, hungrily eyeing his cock. Emily was the first to touch it, stretching her hand out and stroking it up and down, slowly. Nicola's hand reached out to fondle his balls, giving them a tug while Emily's hand moved a little quicker. At the same time they leaned in, licking at his dick and touching tongues as they did. They wrapped their lips around his cock and worked up and down the shaft, kissing while giving him the hottest blowjob he'd ever had.
Alan reached down, running his hands through their hair and watched as they pulled away from his dick. They leaned in again, this time properly kissing each other. Alan watched as they tongued each other while Nicola reached over and started to give him a handjob. He moaned as Nicola then began to kiss her way down Emily's body, pulling one small tit out from her bra and immediately running her tongue around the nipple.
Emily began to moan too and Alan reached out, tugging the other one free and teasing it with his hand while Nicola jerked him off. Emily looked over at him, smiling, as she reached across and put her own hands into Nicola's bra. She squeezed the blonde's tits in her hands and Nicola grinned, pulling away from her.
Enjoying the show
Nicola helped Emily up and pushed her onto the bed so that she was lying down. "Watch," she said to Alan, kissing her way down his wife's sexy body until she reached her pussy. She pulled the lingerie to the side to reveal the neatly trimmed bush and licked at her clit. Emily began to moan and Alan moved his hand to his dick, watching another woman eat out his wife.
He watched as Nicola slowly slid one and then two fingers into his wife's hot pussy, fucking her with her fingers as she sucked on her clit. Emily was moaning loudly now and Alan's hand was moving in time with Nicola's fingers. Suddenly Emily went rigid, her face going red as she clutched her hands at Nicola's head. When Nicola drew away her face was soaked in Emily's come and Alan let out a moan at the sight.
Nicola moved to him, kissing him and letting him slip his tongue into her mouth so he could taste his wife's sweet pussy. He felt a hand cover his own on his cock and looked over to see Emily reaching for him. Nicola pushed him back onto the bed and he watched as Emily straddled him, slowly sliding his hard cock into her soaking wet cunt.
He moaned, bucking up into her and watching her slowly grind up and down his dick. Just when he thought it wouldn't get any better, Nicola came up behind her, kissing at Emily's neck and wrapping her arms around her to squeeze her tits. Emily moved a little faster on his cock and Alan thrust up to meet her, watching as Nicola slid one hand down Emily's body to her pussy. She stroked her finger quickly on her clit and within moments Emily was moaning again in orgasm as she frantically bounced on his dick.
As he enjoyed the feeling of his wife's pussy squeezing hard on his cock, Nicola climbed over his face, pulling her own lingerie to the side to reveal a completely bare pussy. He licked up at her clit as Emily continued to fuck him. Nicola lowered herself further onto his face and Alan licked at her cunt, tasting the sweetness there as she moaned above him. He ran his tongue slowly over her slit and up to her clit, circling it with the tip of his tongue and getting another moan from her. He moved a hand up, sticking a large finger inside her pussy as he licked as her, hearing her moans joining those of his wife as she bounced up and down on his dick.
He could feel his own orgasm getting closer and began to moan into Nicola's pussy, feeling her wet juices flowing into his mouth and licking hungrily at her. He was thrusting to meet Emily's now and just as Emily began to orgasm again he came, blowing his hot come into her as she screamed. Nicola was still moaning on his face and he finger fucked her hard, feeling her pussy clenching hard on his fingers. A few seconds later she moaned loudly, rubbing herself on his face as she came.
They moved and all three of them lay down on the bed. Alan looked at how flushed Emily was and put his arm around her, giving her a kiss. Emily licked her lips afterwards, no doubt tasting Nicola's juices on him. "Thank you," Alan said, grinning and hoping that every birthday would be like this. Latest posts by Lara Mills
(see all)
---