Threesome Fun: Keeping Everyone Involved
February 19, 2016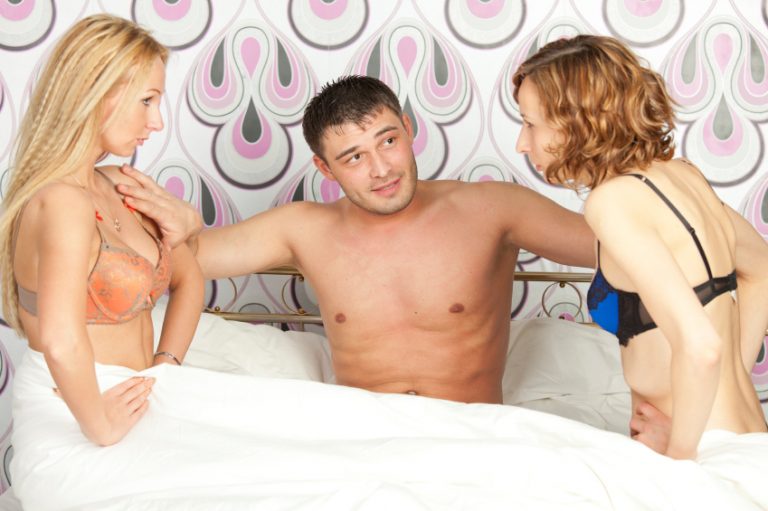 ---
Everyone has a bucket list of things that they want to do in life, and when you get to the kinky sex area, you'll usually find one thing in common with most lists: most people want to have a threesome. Threesomes give you the chance to fulfil a fantasy and try something that you might not ever expect to again, and honestly, you won't have anything quite as unique as threesome fun. It makes for a great sexy memory and is something you won't forget for a long time to come!
However, people tend to encounter one big problem during a threesome. They find that they have difficulty keeping everyone entertained and getting all of the participants involved. Some people might be uncertain of how they are supposed to act and what they are supposed to do, while others may simply feel awkward and like the attention isn't being shared equally. When that happens it can be difficult to know just what to do, so here on the XEscorts blog we take a look at some fun things you can do to keep everyone involved in your threesome fun.
Finding the right partners
The first, and perhaps the most important, step when trying to enjoy a little threesome fun is to find the perfect partners. You might find that you are in a relationship and that your partner has someone in mind, or might find that the local escorts are perfect to spend a little time with.
If you've talked to the potential threesome friends when drunk about it, don't go right ahead with it. Instead, talk to them about it when you're all sober. Yes, drink gives you courage, but it can also make you think that something is right for you when it isn't.
Take the time to find people who are as passionate about this threesome fun as you are. When you are talking about the threesome, ask them what it is about the threesome that turns them on the most.
They might just say the very same thing that you find attractive, and this can help to keep things running smoothly. If not, you can keep their kinky thoughts in mind to ensure they are as involved during your hot and steamy sex session as possible by using their own turn ons to help them enjoy it.
Keeping everyone involved during the threesome
It can happen to us all. Sometimes we'll be enjoying sex and suddenly get stage fright. We aren't sure what to do or where to go, which is why having understanding people can help to ease you back into the fun.
If you notice that someone during your threesome doesn't seem to be as into it as you were hoping, you have two options. You can stop the action and see how they feel, but this might be more of a turn off for them. The alternative is much more fun!
Invite them to join you by moving towards them and kissing them. By putting the attention on them and ensuring they get to enjoy the feeling of being pleasured, you're helping to keep them involved. It could even be that your partner didn't realise they were leaving them out, and seeing you give them attention might prompt them to as well!
Ask them what their favourite position is, and then get into it. You have your rock hard cock to keep them happy, and you also have your mouth and two hands. The other person involved also has a number of tools they can use to bring pleasure, so encourage them to get involved. It will be much more fun this way!
Talking about your threesome fun!
One of the best ways to find out why some people didn't get as involved in your threesome fun as you wanted is to talk to them about it afterwards. Have an honest and frank conversation, telling them that you really loved it when they did this but that you noticed they were a little disinterested.
It might just be that they weren't sure what to do, and by talking about it you can come up with a plan of action. However, it might be that they realised a threesome just isn't for them, and when that happens there isn't anything you can do. Simply accept it and try to find those who might enjoy it more. You'll find that the duo escorts here on XEscorts are some of the best to spend a little time with, and they'll make for perfect threesome companions! Latest posts by Lara Mills
(see all)
---