Track Your Morning Wood With The Latest App!
January 30, 2018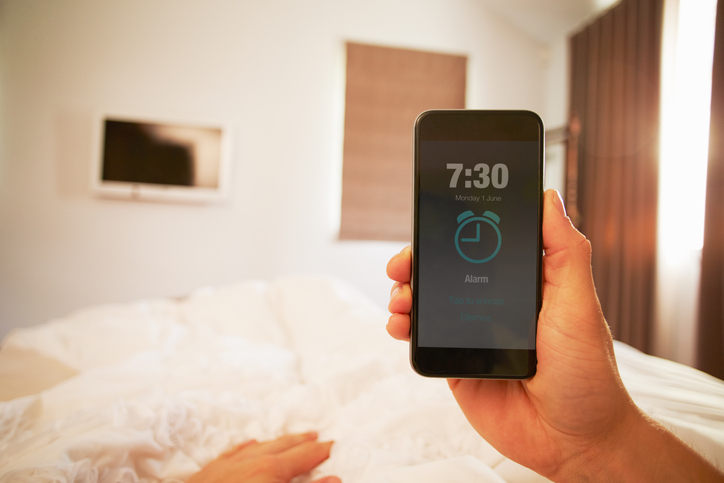 ---
It is important for us to be aware of our health and how it will change over time. You might find that you struggle to get and maintain erections as you get older, or perhaps your morning wood just isn't as good as it used to be. Either way, these are the things you should be taking note of.
Knowing how your body is a great way to spot any big changes that might be happening so you can deal with problems before they get serious… but how are you supposed to track your erections? The latest app allows you to do it with no fuss at all, asking you every morning about your boner. So what's the big deal about this app?
Morning Glory
The app itself is one that we think will be very popular. It enables anyone over the age of 17 to track their morning wood and see whether they are continuing to maintain healthy erections. The app aims to promote sexual health and make users more aware of how healthy their penis is.
It has been developed by Roman, a company eager to fix the problem of erectile dysfunction. We already know that this is a common sexual problem that people face, but many feel uncomfortable speaking to their GP about it. They feel that this means that they aren't a man if they admit this problem, but it actually happens to most men at some point in their lifetime.
The app works by asking the user each morning if they had an erection when they woke up. If they did, then they'll begin a streak. For each consecutive boner you achieve in the morning, you'll add another day to your streak. You can then check the calendar to see if you have trouble maintaining an erection at certain times of the month.
Why is this useful?
You might be wondering why seeing your morning wood streaks and just how often you get an erection could be useful to you. It can help you spot trends, such as when you might be stressed at work. When you get stressed you are more likely to have troubles maintaining an erection, but it can be an indication of more serious matters.
The company behind the app recently explained that "if you're experiencing a diminished erection, it's often the first sign of a far more serious condition that could be brewing". In other words, it could be a sign that there is something else going on, other than stress or anxiety.
Some of the common causes of erectile dysfunction include things such as diabetes, cardiovascular disease, and obesity. By using the app you can then see if you are regularly waking up with morning wood or if you are having trouble more and more lately. So if you are, what are you supposed to do?
What can you do next?
So, you might have been keeping an eye on your morning wood as it is to see how you do, and you may have spotted some problems. Perhaps you have more problems now than you did in the past? Well, this app can help you see when you need to take further actions.
If you feel that you have erectile dysfunction, you should speak to your GP. Yes, it might feel a little embarrassing to do so, but they are the best people to help you. They can point you in the right direction and give you advice on how to change your lifestyle and improve your sex life.
Not quite ready to go to your GP? There are a few things you can try yourself to see if they help. There are a few basic things you can try, and you might find that something as simple as getting enough sleep each night is what you need.
Would you try the app?
It seems that there is an app for absolutely everything now. No matter what you want to do with your phone, or what information you wish to track, you can do so with just a few taps on your smart phone. Tracking your morning wood can help you see if there are problems to be aware of, and because you simply answer a question each morning it will be easy to see the changes!
It takes the worry out of your health, as you can just see the changes there on your phone. So do you think you would use an app like this to track things?
Have you any experience of erectile dysfunction that you would like to share? You can tell us the things that worked best for you, and whether you sought help from a healthcare professional, by leaving a comment in the box below. Latest posts by Lara Mills
(see all)
---