Treat Yourself: The Best Sex Toy Advent Calendars!
November 30, 2018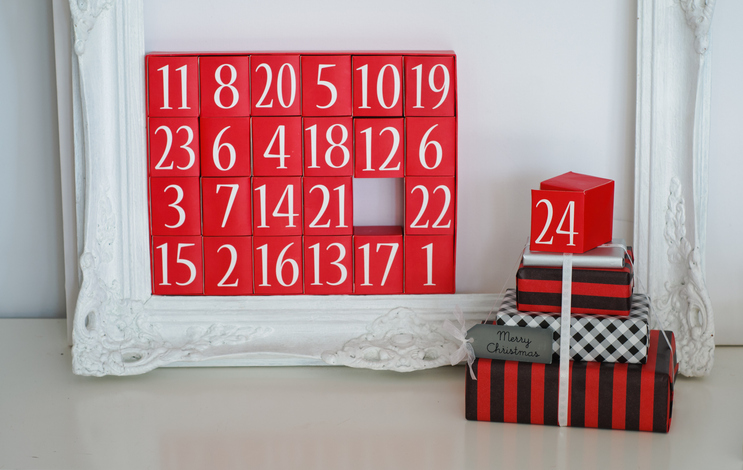 ---
When I was growing up, the countdown to Christmas was so exciting… mainly because I got to eat chocolate every day. Advent calendars were pretty boring, offering you a shaped chocolate behind each door. However, they have changed throughout the years. Instead of getting a chocolate, you can find absolutely anything behind each door. Sex toys included.
If you want a fun adult countdown to Christmas, there are tons of sex toy advent calendars out there. But which is the best for you? Is it worth splashing out or should you keep to a small budget? I take a look at some of the calendars available right now.
Why sex toy advent calendars?
The first time that I heard about sex toy advent calendars was a few years ago. It appeared on my social media with tons of people going "what a waste of money" and "why would you want one?". But I wanted one. Badly. I was expanding my horizons when it came to sex and I was so eager to try something new.
The sex toy advent calendars gave me the chance to be adventurous. Each door revealed a kinky surprise. Sometimes it might just be a new lube to try out. Other times it would be a new sex toy to try with my partner. Occasionally you'd get something you hadn't thought to try before! Opening the door together before work was a thrill. I'd get a sneak peek of what the evening had in store for me, and I could start planning an erotic adventure for me and my partner. It pushed me out of my comfort zone and encouraged me to try new things.
Why are people buying sex toy advent calendars? Some people want to add new toys to their collection. Some, like me, are eager to try new things, but have no idea where to start. Others just love the thrill of seeing what is behind each door. Many couples enjoy using the calendars because they get a surprise each day to share with their partner.
Buying sex toy advent calendars used to be a niche thing to do. Now it seems that you can get them pretty much anywhere, covering a huge range of budgets. So how do you choose which to buy? I take a look at some of the calendars you can get right now, so you can enjoy a kinky countdown this Christmas.
The Orion Sinful Advent Calendar
One of the biggest sellers last year was Orion's Erotic Advent Calendar. It was selling from anywhere between £100 and £130, making it an expensive one to buy. Many loved it, despite the price, because of the sheer selection you could enjoy. After a bit of shopping around I've found this year's available on MenKind for just £49.99. But is it worth it?
While the calendar has a range of toys and gifts inside for everyone, suggesting it is a couple's calendar, things might be more heavily weighed towards the feminine body. Without giving too much away, a lot of the wearable items seem to be geared towards ladies. Sorry gents!
Not all of the items in the calendar are kinky. Some of them are, of course. But there are also a number of items which aren't. Some are more romantic, so you can have an amazing night in with your partner one night before kinking things up the next. There's a wide selection in the calendar, and it proved to be popular last year.
Bondara's Selection
There are two websites on this list where you can get your hands on a variety of sex toy advent calendars. They give you the chance to find the best one for you, depending on your preferences. If that wasn't enough temptation for you, both of the sites have sales on the calendars right now! The first website is Bondara.
Bondara currently have five advent calendars available to choose from. They vary in length, with four of the calendars being 12 countdowns rather than the full 24. If you want 24 days worth of toys, you'll want to go for the Couple's Play calendar, shown in the image below. It is the most expensive of Bondara's options, but at a reduced price of £99.99, it might be the perfect treat!
You might not be in a couple right now, or maybe you want something a little different. If so, they have calendars for him and for her, containing some amazing toys just for you. They also have a kink & BDSM calendar, as well as plus size play. They may be ideal for adding new items to your toy chest, and at £49.99 each, you'll get some bargains!
Lovehoney's Selection
Lovehoney also have a number of different advent calendars to choose from. While they do not have individual calendars for men and women, they do have a variety for you. They cover everything from sex toys to BDSM to lingerie. Just in case you want to update your wardrobe with something new.
The toy calendars come in two different varieties. The first is the Sexploration Mega Couple's Sex Toy Kit, with 12 pieces. It will set you back £74.99, which makes it quite pricey compared to some of the products on Bondara. However, it is geared more towards expanding your horizons, so you'll find plenty of products you might not have thought of trying inside. There is also the Best Sex of Your Life calendar. It is £125 but contains 24 items, one of which is a sex toy worth £59.99. You have more items to play with and a wide variety in this calendar.
The ones that I am most excited about aren't actually sex toy advent calendars. Instead they are lingerie calendars. For £85 you get "12 nights of seduction" with a huge array of lingerie inside. Worried about not squeezing in? They have one size and plus size to keep everyone happy.
Fifty Shades Calendars
You might be wondering why I haven't mentioned the BDSM calendars available on Lovehoney. That's because they aren't Lovehoney exclusives. That said, the cheapest that I have been able to find them on the site, making it the place to go if you want to buy them.
On Lovehoney's site you have two options to buy. The first is the Fifty Shades Freed Pleasure Overload calendar. It will keep you entertained for the shortest time, as it covers just 10 days, and will set you back £89.99. If you love the colours purple and rose gold, then you'll find plenty of items inside to appeal to you.
If you want more BDSM toys to choose from, the There's Only Sensation Ultimate Gift Set might be better for you. It contains 24 items and is a hell of a lot cheaper on Lovehoney than anywhere else. Most places are selling it for £200, but Lovehoney currently has it listed at £80. That's a huge saving, and considering one of the toys you get is worth £69.99, it is worth it.
The AMORELIE Premium Erotic Advent Calendar
Most of the advent calendars I've mentioned have been around £50, with some a little more expensive. However, this next calendar is going to really set you back a lot. £250 to be exact!
The Premium Erotic Advent Calendar from AMORELIE is twice the price of the most expensive calendar on offer from Lovehoney. And yes, this is the cheapest price that I can find it for. You can buy it from Selfridges if you really want to splash out for you and your partner.
Is it worth it? Well, the preview shows a sex toy which is currently retailing at £69, and there seem to be many other highly rated toys amongst them. Just be warned that you may want to pick up the calendar in store, as Selfridges will charge a minimum of £5 for delivery.
I'm dreaming of a kinky Christmas
There are likely even more sex toy advent calendars that I don't know about out there. I've only talked about thirteen of them, but there are sure to be more. It just depends on what you are looking for and what your budget is.
If you don't mind the surprises and variety in the calendars, then buying one might be a good idea. You'll get a huge selection and often save a lot of money. The downside is that you might not always get something you can use, or it might not be something that you are interested in.
Either way you are taking a risk. The chances are that you'll love opening a new door each day to get a kinky treat. So will you be spending money on a naughty advent calendar in the countdown to Christmas or are you saving your cash for Christmas Day? Maybe you should look at some of the Christmas sex toys available out there for a festive treat? Latest posts by Lara Mills
(see all)
---