Ultimate Threesome Rules: What You Should Know
December 16, 2016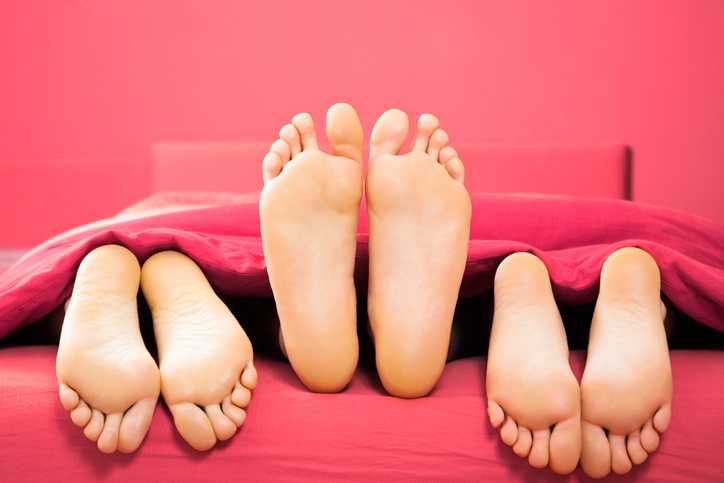 ---
Having a threesome is the ultimate fantasy for many. It sits at the top of almost every sexy bucket list. You might have had one before, or perhaps you've just heard friends talking about how amazing their threesome was. Either way, you will probably have decided that you want a threesome for yourself. You know, to see if they really are all that they are cracked up to be.
The problem is that there are many people out there struggling to figure out what you are supposed to do during a ménage à trois. There are some threesome rules that you need to be aware of, especially if you have never had a threesome before. Well here on the XEscorts blog we take a look at these unwritten threesome rules so that you know exactly what you are getting yourself in for.
Get on the same page
The temptation can be to head strange to asking your partner if they are up for it and then finding a third person to join your fun. Yes, you want to get down to business as soon as possible, but jumping ahead too quickly is going to cause you more problems than anything else.
It all begins when you and your partner decide that you want to explore this fantasy. Your idea of a threesome and their idea of a threesome might be very different. You might be under the impression that it will be MFF while they are hoping for MMF.
So you need to get on the same page. Take the time to sit down and talk about what you are both hoping for. It might be that you want a third person to join in the fun but, ultimately, it is an experience for you both.
This is the perfect time for you both to set some ground rules. Not sure where to start? Is kissing allowed? What about dirty talk? These might seem like little, insignificant things, but they can really change the dynamic of your sex fantasy. Talk about them first!
Friends aren't a good idea
So, you've set some ground rules. Threesome rules will change for each person, and while there are some that remain the same, often they change. You need to also talk about the third person joining you.
For a lot of people it is easy to just think of a friend that they want to invite. However, this can cause plenty of problems. If you have an intense attraction to this friend you might find you spend more time focusing on them and not your partner. Not good.
It can also ruin friendships. Some people find it difficult to stay friends with someone once they have fucked them, and if you think that this could happen to you, it is best to simply not invite a friend to join.
This is why so many people will invite an escort to join. Escorts are professionals and won't bring feelings into it. Plus, if you haven't had a threesome before, they will know just how to ease you through it. It might just be the best decision you make!
Keep an open mind
Sex between two people can be challenging, especially when you both have different interests in the bedroom. You might compromise and be happy to try new things with your partner. You might even have a few hard limits you don't want to touch.
Now just imagine how much more difficult this dynamic is when you have three in a bed. This is one of the things that makes it even more challenging. You all want to have your fun your way, but it isn't always possible.
When it comes to a ménage à trois, it is best to keep an open mind. Try not to immediately shoot down ideas. It can make others feel uncomfortable if you won't even discuss the possibilities they have opened up to you about.
But it is okay to say no
That said, it is still perfectly acceptable for you to say no. If you know that there is something you just do not enjoy, tell them that. Say that you have had previous experience with it and found that it wasn't for you.
The way that you say no can make a huge difference. Don't just go "ew, no", as this can be upsetting to hear… especially in the middle of a threesome. Instead, try to think of alternative things to do that will still interest them.
Again, this is something that is best discussed before you jump into bed, as then you get the chance to figure things out. If you all realise that you want to kink it up and try BDSM then great! If the others involved want to and you don't, tell them. You want to have fun, and while it can be good to step outside of your comfort zones, you will have hard limits for a reason.
Threesome rules can change
The basic threesome rules are pretty easy to understand. It just requires a lot of thought. Sure, in films and TV shows threesomes happen naturally. The people involved just look at each other and suddenly everyone is naked and having a great time.
It works a little differently in real life, which is why it is important to establish your own threesome rules first. Take the time to sit down with everyone involved and talk about what you want. It can really make a huge difference. Talk about what everyone wants from the threesome and you'll find it is a lot more enjoyable.
Have you ever had a threesome? Are there some essential threesome rules you believe should be applied to all? Tell us all about them by using the comment box below. Latest posts by Lara Mills
(see all)
---
---