Using Roleplay To Make Sex Better
February 27, 2015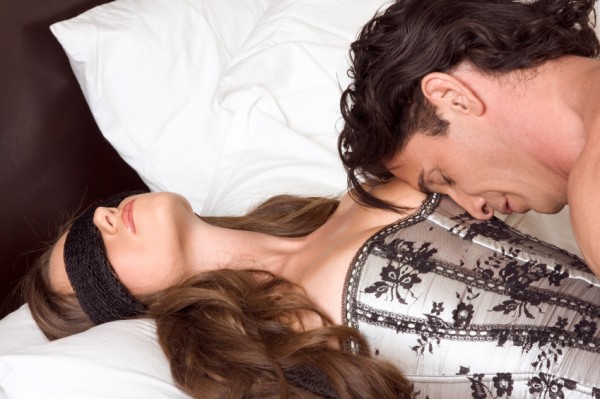 ---
People tend to be in two minds about roleplay in the bedroom. It is either something they will rarely do, feeling that it is just a little silly and awkward, or they love it and just can't get enough of it.
How do you use roleplay to make sex better? Is there a secret formula or can anyone use roleplay to enhance your kinky experiences in the bedroom?
Avoiding the awkwardness
The first time you try out roleplay it can feel incredibly awkward, whether you are dressed up or not. If you aren't totally comfortable with it, or if you don't have a clear plan in your head about what you are doing, it can feel silly.
I remember the first time I tried out roleplay and it was honestly one of the most embarrassing things I've ever done. My boyfriend at the time had bought me the Ann Summers sexy police officer outfit as a subtle hint of what he wanted.
Trying it on for the first time, I thought I looked ridiculous. I wasn't tall or curvy enough to carry it off, as he'd gotten quite a large size, and so it looked like it was drowning me. In the end, we simply had sex while I was wearing it, which isn't really the point of roleplay.
So how do you avoid that awkwardness from trying roleplay for the first time with a new partner? First of all, you should talk to them about it before you get into the bedroom. Let them know your fantasy and find out if they are okay with it.
If they are, you should then go through just what you hope will happen as part of the roleplay. It isn't roleplay if you just put on an outfit. Roleplay is so much more than that. You should try creating sexy scenarios for you and your partner and act them out in character to make it hot and sexy.
Getting the right outfit
Most roleplay situations require a costume. It could be something as simple as overalls if you are acting out a repairman porn star experience, or it could be an entire outfit with matching sexy lingerie to go with it.
There are a few different options open to you when putting together your outfit. Make sure you look into each option to find the best for you.
You could simply go online to buy it. This is often the cheapest way of doing it, and you can get the items sent out to you the very next day if you order at the right time. However, there are some dangers with buying online. It may not look the same on your partner as it does on the model, and the quality might not be what you were hoping for. If your outfit comes with accessories, they may not be included. Check the fine print before you buy!
The second option? Buying on the high street. If you choose to go into a specialist store it might cost you a little more, but you can try the items on to make sure they fit the way you were hoping to. If it is an independent shop they might give you a discount deal if you get all of the accessories at the same time, and you can walk out of the shop with the items then and there.
There is a third option – make it yourself. For something like a secretary and boss scenario, you will probably have all of the items you need in your wardrobe already! Your partner can put on a tight pencil skirt, white blouse, and high heels. If you'd like to add some glasses to the mix and have a pair of 3D cinema glasses on hand, you can simply pop out the lenses for a cheap and handy last minute prop.
Using a script
It might seem boring and predictable to set out a script of just what will happen during your roleplay, but it can save you a lot of trouble in the long run. Instead of standing there, struggling to think of what you could say or do, you can simply refer to the plan and go with it.
Use the time you would have spent thinking of things to do to get into character. Are you meant to be a head teacher waiting to discipline your sexy schoolgirl partner? Are you a doctor trying to seduce a hot nurse? Use language that reflects your character to turn your partner on even more.
Your script can be as detailed or vague as you like. Some people like to have just a few words written down to help them stay in character, while others will include the positions they want to do. Use your imagination and make it a night to remember.
Roleplay can be a lot of fun, when done right. The most important things to remember are talking to your partner and working out the final details. These tips will help to make it sexy and not silly.
What is your favourite roleplay? I enjoy anything with a sexy short skirt that can be lifted up. Latest posts by Lara Mills
(see all)
---