Whatever You Do, Don't Inject Viagra Into Your Penis!
August 25, 2015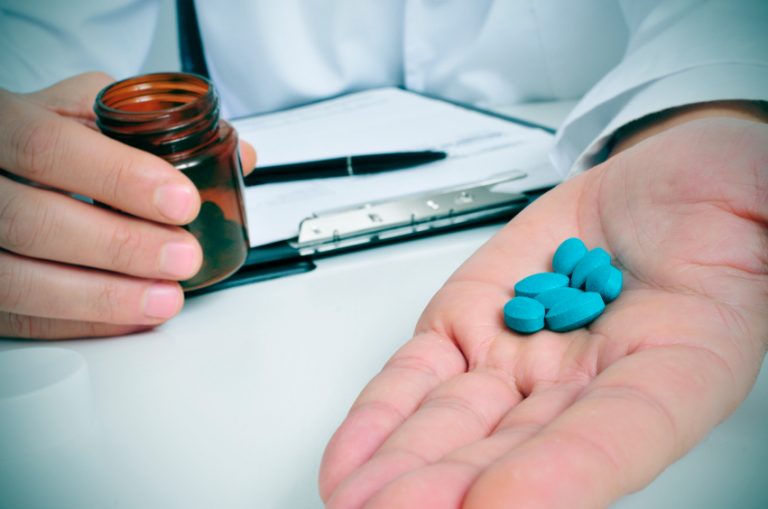 ---
If you are a man struggling to get and maintain an erection it can be frustrating. We know that you want a quick solution instead of trying all of the "at home" techniques of relaxing and not stressing about it, and Viagra provides that for many.
The problem is that there are plenty of people who abuse Viagra. They will take it when they don't really need it in the hopes of getting a bigger and better erection. This usually leads to them taking too much and panicking because their boner has been going for over four hours and the sight of their purple headed monster cock is starting to terrify them.
A quick trip to the doctor can help to solve this, but you are left feeling embarrassed afterwards. For the most part people know not to take Viagra unless they really need it, but there are some out there doing ridiculous things to get and maintain an erection and it can have some horrifying consequences, like one man who decided to inject a Viagra-like substance into his penis. Ouch!
Confessions of Reddit
When you are feeling bad about your life, you might have that one friend who will put a hand on your shoulder and say "it could be worse" as though that is supposed to make you feel better. Well, Reddit has become the place for that to be confirmed, with the subreddit of TIFY (today I fucked up) being the place to go to let you know that, actually, things really aren't all that bad for you.
Taking a look at this page will show you some of the mistakes that people have made in their lives, and let you know that you really aren't alone with fucking up at times. However, a few days ago a thread was started by someone calling themselves "SoreCock" that was titled "TIFU by injecting Viagra into my penis".
You are probably already thinking that it sounds pretty bad. I mean, the thought of putting a needle near your cock is probably enough to make you cringe as it is, but when the thread starts with the words "just got back from the emergency room" it leaves you pretty worried.
It is even worse if you skip the actual post itself (because it is long) and go to the end where SockCock summarises the story by saying that he "had to rush to the emergency room because it [his penis] nearly exploded". Yikes!
What really happened?
Well, for SoreCock it seems that the decision to inject the Viagra-like substance of TriMix into his penis came when he was frustrated that his erection wouldn't last longer than "1 to 1.5 hours", as he and his wife were into swinging and loved the sexual escapades that they got up to in their swinging circles. He wanted to give his wife a great time and felt that a longer erection would do just that.
After going to an urologist and saying that he had erectile dysfunction (which he did not), he was put onto some tablets to try and prolong his hard-on. They didn't work in the way he was hoping they would, and so he said that "the next step was injections straight into the side of the penis".
He answers the next question that we are sure you are all thinking by saying that "no, it's not very painful at all" and that it worked well for him. He found himself "almost instantly" with "the thickest and hardest erection" he had ever had. He said that "walking around the house with my massive shlong wagging around was great" and that he felt amazing after it.
His wife seemed to be just as pleased with his new and improved cock, and so they had a two-hour long fuck-fest that was only cut short by the fact they were both feeling a little sore from all of the friction. In this time he came twice and found it getting harder, but it was only a little later he realised something wasn't right.
The emergency room
In an effort to make his monster erection go down he began to pour cold water on it, take Sudafed tablets, and even do some exercise to divert the blood to another part of the body. Nothing worked, and three hours in he said that it was beginning to hurt. So he took a trip to the triage to see if they could help him.
By this time it was extremely painful, as he says that he "could not work and required a wheelchair" all because the feeling of his shorts rubbing against his penis with each step he took "was incredibly painful".
When he was seen by the resident doctor he had been given two full doses of morphine in an attempt to calm him down, and they then got to work on the issue. The solution was a pretty terrifying one to be told, as SoreCock explained:
"Eventually they got a butterfly needle and proceeded to extract a STUPENDOUS amount of blood out of my cock, as the doctors took turns squeezing my dick like a lemon."
Lesson not learnt
You'd think this experience would be enough to tell him that injecting things into your cock is a bad idea, but it seems that isn't the case. In fact, later on in the long and detailed thread of his experience he says that "needless to say, I'll be doing this again", although he does seem to be aware that he needs to change the method, stating that he is going to start "at a third of the first dosage".
Personally, I think he'd be best just not doing it. If he can keep his cock hard for an hour without the need of Viagra he doesn't need anything else! Why risk your cock nearly exploding again and taking yet another trip to the emergency room?
Would you ever consider injecting something into your penis, or do you have a better solution for him to maintain his hard-on for longer?
You can let us know in the comment box below, or you could see what strange erection stories others have to share. Latest posts by Lara Mills
(see all)
---
---