Woman Hires Strippers For Husband's Funeral!
April 17, 2015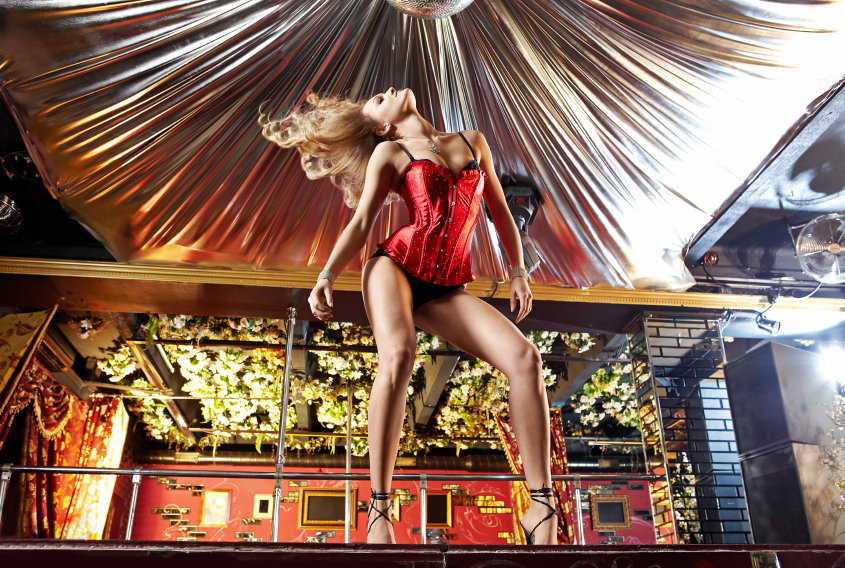 ---
When you think of a funeral, you tend to think of people gathered around a coffin in a church and crying as they take the coffin out into the graveyard and lower it into the ground. They are very sad occasions, where the only joy is sharing memories of the one you've lost with everyone gathered there.
One woman had other ideas for her husband when he passed. She thought she knew what he wanted at his funeral, and so she arranged for some strippers to send him on his way.
An unusual service
At many funerals, when the music comes on you are supposed to stand and sing along with the hymn, but for one group of people in attendance at a funeral, they found themselves pulling out the smartphones to record what was going on.
At Taichung funeral home, things took a turn for the unusual as two sexy women in white towels came forward. Soon, the towels came off to reveal nothing more than black bikinis and thigh high PVC boots.
The song 'Moves Like Jagger' by Maroon 5 starts playing, and the girls begin to dance around the man's coffin.
They even lean over it and shake their sexy asses against in one of the most unusual things witnesses say they have ever seen at a funeral.
Husband's wishes
The most bizarre thing about all of this is that the person who hired the strippers in the first place wasn't an old friend of the man, hoping to give those in attendance a show. It was actually his wife, hoping to send him off in the best way.
Mrs. Jian believed that her husband "always had an eye for the ladies", and so decided that the best way to send him off into death was by paying for "one last dance" for him in his home town of Taipei, Taiwan.
So, she hired some strippers to come to the funeral and shake their thing for the dead man in hope of giving him quite a show, wherever he was.
While it might seem unusual to us, it seems that the idea of having strippers at funerals isn't a new one, and dates back to the Taiwanese mafia culture. Either way, if you're going to go, strippers at the funeral might be the wrong thing to do. Take a look for yourself:
Scandalous or a good send off?
So, is this a ridiculous gesture to send someone off this way, or is it actually a great way to cope with death?
Honestly, I'm not sure how I feel about it. If it is part of the wishes of the deceased, I don't see anything wrong with it. After all, it is what they want, and far too many funerals and just doom and gloom.
That said, would you really be happy to go to the funeral of an old and faithful friend if there were strippers there to grind on the coffin? Would you consider having this kind of send off for yourself, or would you prefer to get the striptease and show before you passed away?
For me, if I knew my time was coming and I didn't have long left, I'd rather enjoy that sort of thing while I'm alive, instead of turning my funeral into the kind of thing that makes the news. What do you think? You can let us know by posting your thoughts in the comment box below. Latest posts by Lara Mills
(see all)
---