Woman Uses Vaginal Leeches For Better Sex!
March 15, 2016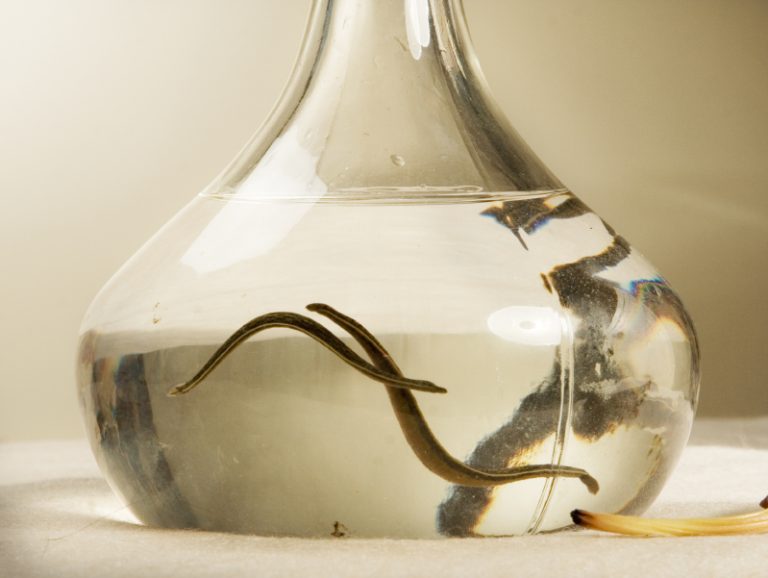 ---
When you think of the kind of kinky things you might put into a dripping wet pussy, leeches definitely aren't one of them. This is what one woman did, however, in order to try to help herself get pregnant. Yes, you read that correctly. A woman used vaginal leeches to try to get pregnant and to also let herself have better sex.
We're not sure what else we can say to that, so here on the XEscorts blog we take a look at just why this woman thought it was such a good idea.
A lonely future
Living in London was great for Lithuanian born Nina Evans, but she wanted something more from life. She'd got a partner she loved, having married for the second time, but it wasn't enough.
She wanted another baby. Her first, now aged 28, had given her plenty of joy and so she decided that it was time to try for baby number two with husband number two. However, it seems that things weren't quite going to plan for her.
She went to speak to her doctor, discovering that she actually had a problem. She was diagnosed with multiple myomas in her uteras. She was then told that this, combined with her age as she was over 40, meant her chances of having more children simply didn't exist. She could not have any more children.
Eager to avoid a hysterectomy
Nina was told that she'd need a hysterectomy, but rather than losing all hope that she would never be able to try for baby number two, she decided to take matters into her own hands. She decided that it was time to try a new form of therapy.
Leeches were the first thought that Nina had. Yes, really. She explained in an interview with The Sun that her heritage meant that she knew leech therapy has been used in the past for a whole range of illnesses.
"They're considered a general cure for all, and I knew from experience, having had leech treatment before, that it gave you more energy and a more positive outlook." She went on to explain that "most people see leeches as scary blood sucking creatures but to me they can change your life entirely."
Using the vaginal leeches
As Nina's problem was the fact that she had multiple myomas in her uteras, the leeches would have to be put into her vagina in order to deal with the problem. I don't know about you, but the idea of having leeches on my body is worrying enough, without then thinking of them being vaginal leeches to use in your pussy!
Nina explained that her first treatment was "like having a pap smear", explaining that the doctor "used the plastic device known as a speculum and inserted it" into her pussy so that he could add three leeches and them them do their job.
Still not feeling really uncomfortable with what you're reading? Nina said in her interview that the leeches basically attached themselves to the inside of her cervix, which doesn't sound at all pleasant. When the therapy was over, "the leeches drop out", some coming out "fatter than a bottle of nail polish".
Worrying about using leeches
The idea of putting leeches inside of your body so that they can help to "cure" you is pretty intimidating, and even Nina, who had received leech therapy before, said the idea of vaginal leeches was "a little daunting".
However, she was certain that nothing could go wrong. "For people who are wondering how leeches doesn't get left inside someone's cervix, they are counted in and counted out so none remain," she explained, going on to say that "they naturally drop off when full" so "there is no chance you get left with a leech in your vagina".
Nina felt that the vaginal leeches were doing such a good job that, after five treatments in Russia, she got her own leeches so that she could use the vaginal leeches at home.
Pleasant side effects!
For the curious among you, you might be surprised to know that the vaginal leeches did their job. After eight months of using the leeches, Nina discovered that she was pregnant at the age of 45. She had much more energy than before, but that wasn't the only side effect of the leech therapy.
"I was feeling better, had more energy and over the next couple of months my periods became more accurate", she said, feeling happy that she was starting to see the positive side of the therapy after only a few days.
The best part? She found that she was having better sex. "I also noticed my orgasms were longer and more intense", she confessed in an interview, stating that she had "some of the best" after each different round of treatment.
Would you try vaginal leeches?
As good as this news is, I don't think people are going to be lining up to try it. The idea of putting leeches in your pussy? No thank you! There are so many other things that you can do to get better sex. You can talk to your partner about the best way to give you more intense orgasms, and you can experiment to find out what works for you!
What do you think? Would you dare to use leeches to try and get better and more intense orgasms? Would you consider putting them on your cock if it would make your erections harder and last longer?
We want to hear from you. You can simply leave a comment in the box below and let us know what you think that way. Are you willing to try anything for better sex, or would you happily draw the line and using leeches? Latest posts by Lara Mills
(see all)
---
---