Your Diet Could Help To Prevent Erectile Dysfunction!
April 12, 2018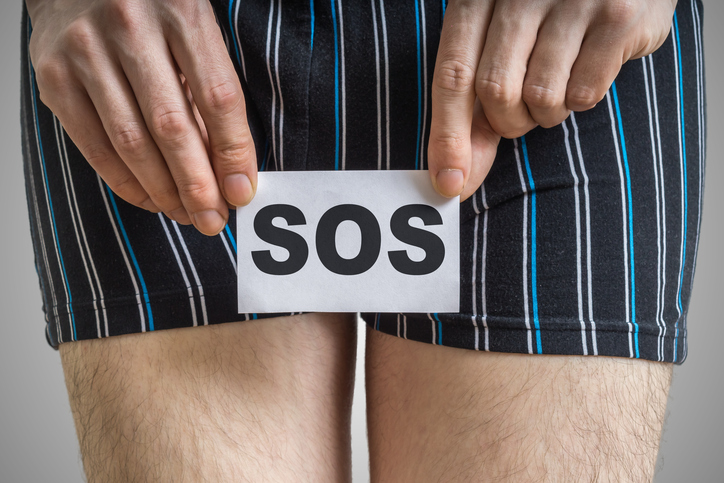 ---
It can be difficult to talk to your doctor when you are having penis problems. Erectile dysfunction is a common problem, with some statistics suggesting it affects 50% of men. That's a lot of people. Yet for some reason we choose to stay quiet about it.
People feel embarrassed about this problem, believing it is something only older men have to deal with. The truth is that it can happen to anyone. That said, there are actually a number of different things you could do to improve your erections and your sexual health. Your doctor can talk you through your options, but did you know that your diet could help too?
A few simple lifestyle changes could lead to better and longer lasting erections. Not sure how? Keep reading for more information.
The facts about ED
ED is a condition where you might have trouble getting and maintaining an erection. For a lot of people, it is something they associate with older men. While age does play a role in it, it isn't a cause of ED. It simply increases your chances of getting it.
Studies vary on just how many people might have to deal with this in their lifetime. According to The Huffington Post, "as many as 52 percent of men experience erectile dysfunction", which is a shockingly high number.
It can happen to anyone, regardless of age, though there are a number of factors that can contribute to it. Smoking, drinking, drugs. There are so many things that can help to contribute to it, but people are often reluctant to see their doctor about it. Why?
Why don't we talk about it?
There are plenty of people out there who struggle with ED. It is a common problem, and yet we don't really talk about it that much. If we do, a lot of people are still reluctant to speak to their doctor to discuss what they can do to improve the situation. Why is that?
To put it simply, people feel embarrassed about it. When it comes to anything regarding sex, we tend to keep a tight lip. We worry that we'll be judged, so even the thought of speaking to a doctor about our problems seems too much.
There are also the many misconceptions about erectile dysfunction. The belief that it only happens to older men might make people reluctant to see their doctor if they are older. They simply hope that the problem will sort itself out. You can help it along a little, but you need to make some changes.
Watch what you eat
Certain things can have an impact on your penile health, and food is one of those things. You might want to consider adding certain things to your diet if you are struggling with ED, like chocolate. Yes, chocolate can help! Dark chocolate in particular is rich in flavonoids, which help to increase blood flow. They can also increase the concentration of nitric oxide in your blood, which can help you maintain an erection for longer.
Watermelon is also a good addition. Not only is it loaded with lycopene, which can help your heart, prostate, and skin, but it also improves the blood flow like ED medications do. If you like snacking on pistachios then you'll be pleased that they can help too, as they improve cholesterol levels and blood pressure.
Can't survive without your cup of coffee in the morning? It might actually be helping you. Studies have shown that men who drink two or three cups each day are actually less likely to have erectile dysfunction. Caffeine helps to boost the flow of blood, so if coffee isn't your thing then tea is a good substitute.
What else can you do?
Watching what you eat can go a long way to helping with erectile dysfunction, but don't simply binge on the things I've mentioned above. You should look at maintaining a healthy lifestyle and simply adding the above things into it, if you can. Yes, this does also mean that you should add exercise into your routine.
Many doctors will suggest that you also cut out or at least cut down on certain things. Cigarettes and alcohol are common suggestions, so if you are planning on seeing your doctor about ED, it is worth taking this step first and seeing if it makes a difference.
Cutting down on stress in your life can be a big help. Regular exercise is an excellent way to work out some tension, but there are plenty of other things you can do. Talk to your partner about how you are feeling, make time for yourself, try not to focus on work-related stresses until you are there. It can be difficult, but removing these stresses can really help with your general and sexual health.
Your experiences with erectile dysfunction
If you find that you are really concerned about erectile dysfunction, the best thing you can do is speak to a medical professional about it. You might be worried about judgement from them, but they are there to help. They have a lot of experience with these types of issues, and they can help you find a solution.
Often you'll find that you can help them by taking some of the steps above first. Try the methods out and see what happens. If you notice small improvements, you can then tell your doctor this. It'll help to eliminate the number of things that they might suggest.
You might be someone who has had issues with ED in the past, or someone who is currently dealing with it. Why not share your advice below? You could really help others out. Latest posts by Lara Mills
(see all)
---