Five Ways To Make Morning Sex Better!
June 25, 2018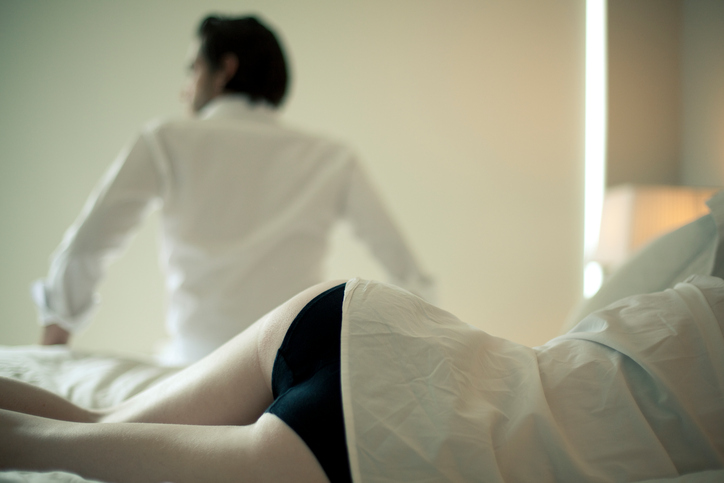 ---
I'm a huge fan of morning sex. There is just something so thrilling and exciting about fucking first thing in the morning. It is a hot way to start your day, but a lot of people feel that it is, well, boring.
It is one of those routines which can get a little dull over time. However, there are a number of different ways that you can spice it up. Here are some of my favourites for you to enjoy.
1. A gentle wake up
If you're anything like me, you can't function in the morning without a cup of coffee. You need something to give you a boost first thing, and that might well be morning sex. It feels good, but you might not be totally ready to wake up and start fucking your partner.
Go for a gentle wake-up instead. Agree with your partner before you go to bed which one of you will wake the other up. You can do this gently, by kissing at their neck and moving your way down there body. You'll wake up in the best way and it will feel amazing!
When I know that my day is going to be tough, I'll talk to my partner about waking me up with an orgasm. I wake up before my alarm to them going down on me, and it is the most incredible wake up you will ever experience.
2. Set your alarm earlier
Getting out of bed in the morning is a struggle for most people. You might hit the snooze button more times than needed and find yourself rushing to get ready in time. If this is the case, sparing some time for morning sex seems like an impossibility.
Instead, you could set a separate alarm to remind you to get up for sex. Make the tone different, and you'll start to think "if I get up now, I have time for some great sex". It might just make the difference to your routine! It'll also give you a reason to get up in the morning.
3. Spooning Sunday
You may be one of those lucky people who doesn't have to get up early on a Sunday to go anywhere. If this is the case, and your partner is just as lucky, you can take advantage of it by staying in bed a little longer.
Have a nice cuddle in bed. Spooning is perfect for morning sex, as your bodies will be pressed together. It'll feel intimate and allow for slow sex. This is the perfect way for you to start your morning, as you can take your time and really work on making each other feel good.
4. Shower sex
If you haven't made time for sex first thing in the morning, you could cheat a little. Combine morning sex with your shower instead! You get the fun of a morning fuck while also getting ready for your day.
Sure, you and your partner will probably take a little longer in the shower together, but it will be worth it. The water will wake your bodies up and the sex will feel incredible! It's the perfect spot for a quickie.
Just take care. If you're sleepy first thing in the morning, you might end up doing yourselves an injury.
5. Use your pillows!
One thing that you will always find on a bed is pillows. There are a number of them, and they might just be the perfect way for you to enhance your favourite sex positions. Don't just leave them at the top of the bed… use them during sex!
The chances are that you are feeling lazy first thing in the morning. By adding a pillow under your partner's lower back during missionary, you'll be changing the angle of their pelvis. This can help to lead to an explosive orgasm, as you'll be hitting their hot spots. Amazing sex with no extra effort? Yes please!
Why we love morning sex
I wrote last week that the perfect time for sex is apparently at 3pm, but most of us don't have time for sex then. We are too busy working hard, and while we'd love to have a break for sex, the chances are that our bosses won't go for it.
This is why morning sex is a great alternative. Not only does it feel good, but it also gives us a mood boost. You'll find that your day seems to start off better just because you had sex.
What is your favourite position for sex first thing in the morning? Do you like sex when you wake up, or do you prefer to wait? Latest posts by Lara Mills
(see all)
---