Happy Haunting! Enjoy Halloween The XEscorts Way
October 29, 2018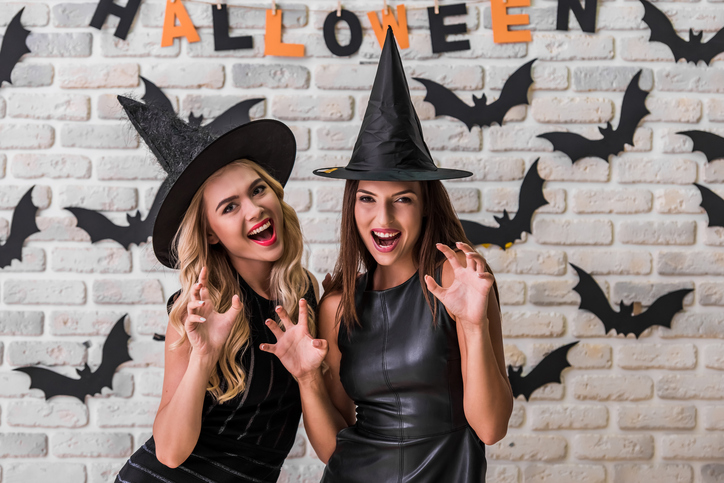 ---
When it comes to our favourite time of the year, Halloween is it! We can dress up in something sexier, because everything is sexier on All Hallows' Eve. We can party with the best of them, dancing the night away in the hottest clubs. Sometimes we'll even get into the spirit of things by putting on a horror movie or going to a haunted house for a scare.
Escorts will be looking for fun ways to celebrate this year. There are tons of options open to you, and you can even add a little Halloween to your bookings with clients!

So how do the sexiest escorts just like you celebrate?
Finding the right sexy Halloween costume
One of the best reasons to celebrate Halloween is that it gives us an excuse to dress up. There are plenty of sexy costumes you can look into getting. There are the more generic ones, such as the air stewardess, the kinky cop, or the naughty nurse. You can never go wrong with those… but you might want something a little different.
Current trends are a great way to find the perfect Halloween costume. It all depends on just how far you are willing to go. If you've been on social media at all then you'll know that the #PumpkinButt is a big trend at the moment. Of course, if you are out in bars, this look might not be appreciated as it should be.
There are some unusual trends this year. The Met Gala 2018 saw Rihanna turning up in a papal-inspired outfit, which meant that it didn't take long for the sexy Pope costume to appear. If you are into your TV and film, you could pick up an outfit inspired by the Handmaid's Tale or maybe even something from Black Panther. Superheroes have been a popular trend in costumes. Remember when we polled XEscorts users about their favourite Harley Quinn?
What clients want this Halloween
Halloween is a tough time of the year. The usual way to celebrate is to dress up and hit some bars. You might even be tempted to just go to see a scary movie, such as the latest instalment in the Halloween series. Everyone is fed up of it, from top London escorts to clients. In fact, many clients are looking for something new to do on Halloween, and you could well be the person they call!
They might decide that they want a traditional escort day, simply enjoying your company. However, more clients than you think will be looking for a sexy Halloween, perhaps with some themed role play. Looking for ideas? Last year I wrote about 4 sexy Halloween role play ideas to help you get started!
You might be a European dominatrix hoping to do something different. Why not take a look at fear play? It is perfect for Halloween and will give your client something that they will never forget.
How to draw clients in on Halloween
Halloween is a big event, and we love seeing all of the kinky costumes people come up with. In fact, many clients will be looking for pictures of those costumes when searching for their dream escort. If you want to stand out, using a Halloween costume is a great way to do it!
It is very easy to upload your own spooky picture. Simply slip on your costume, take the picture, and go to your dashboard to change your thumbnail! It is an excellent way to show clients that you are the perfect Halloween escort.
Want to get yourself noticed in more ways? There are some great upgrades you can use on your adverts to help you stand out. You can move your advert into the Top Advert section, add an 'available now' banner to your advert, or even go for a double advert to really catch their eyes.
You can use credits to purchase these upgrades, and there is no better time to get credits! Right here on XEscorts, we are doubling your credits when you buy more (up to 100 credits). So if you buy 50 credits, we'll give you 50 free! You'll have even more credits to use for upgrades, so what are you waiting for? Contact us to get this offer while it lasts!

Share your Halloween celebrations!
How do you plan to celebrate Halloween? Which costume do you think is the sexiest this year? We're sure that you will look amazing, whatever you decide to do.
There are so many stunning European escorts out there, and we are sure that you want to stand out. Uploading a spooky pic is one way of doing it, as is using upgrades on your advert. You'll find that they are great methods to draw clients in this holiday and show that you are the person to call for a fun time. So why wait? Take advantage of these opportunities now! Latest posts by Lara Mills
(see all)
---