Pegging: What Makes It So Popular?
February 6, 2018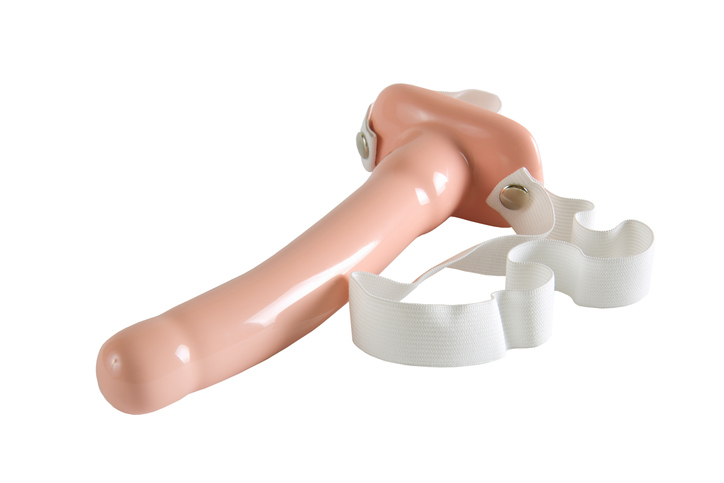 ---
For those eager to try something a little taboo, anal play is one of the first things we go for. Most people like to say that their ass is a one-way street because they feel it is dirty. However, anal play is one of the most fun things that you can do. It has become very popular recently, and plenty of people are eager to try things like pegging.
Pegging is a fun sex act for those keen to try something new. It is a complete role reversal in the bedroom, putting your partner in control and allowing you to be taken. So what is it that makes this act such a huge turn on to try?
What is it?
Anal play is an incredibly popular area of sex to explore. We want to know what it feels like to enjoy something so taboo and tempting, and this means that the thought of being pegged is even more appealing than it has ever been. But what is it?
To put things simply, it's sex with a strap-on. If you want to go into specifics, for those wanting to be pegged, you'll want your partner to bend you over and fuck you up the ass with a strap-on. According to Metro, "2018 will be the year of pegging", showing just how popular this trend is.
It is definitely one of the hottest trends right now for a number of different reasons. There are even a number of different subReddits dedicated to the topic so that you can see people in action or get some tips to help you out. So why is it that we love it so much?
Why do we love it?
So why is it that so many people are eager to bend over and enjoy it with their partner? For a start, it is a complete role reversal. While you might enjoy being dominated, if you do have sex then it will typically be your cock going into your partner.
This time, it will be you taking the cock. You can choose a number of different sized toys to turn you on and make you feel good. You might even find that you love the challenge of taking a bigger strap-on up the ass!
Another big turn on? It feels good. Anal play is great because it can stimulate your prostate. This can help to lead to one hell of an intense orgasm, and it will feel totally different to the ones you might have usually.
Talking about it
If you are hoping to enjoy this kinky sex act, then you will need to take the time to talk to your partner about it. The best thing you can do is it down with your partner in a non-sexual setting, so that there is absolutely no pressure on you or your partner to actually go through with it, if it isn't what you want.
Explain to them that there is something you would like to discuss with them, and then just say it. Often you'll find it is easier to just get it out in the open, rather than talking about the subject.
From there you have a number of different things you can do. Your partner might have a few questions for you immediately which you can answer, or they might want to go and do their own research. Let them, and if they decide that it isn't for them, don't pressure them into it.
Preparing to be pegged
However, there is a chance that your partner will say yes. They might love the idea of dominating you in this way and of giving you pleasure with this kinky and taboo sex act. If so, you'll want to know what you need to do to prepare for the pegging.
First of all, you'll want to wash yourself thoroughly. Warm water and soap should be enough, and make sure you pay attention to your hole. Then you'll want to get some lube. Liberally apply it to your hole and allow your partner to tease your ass with a finger.
You'll need to build up to the strap-on, which means anal training. Start with a finger and then move onto things like butt plugs. Take it slowly and don't rush things. If you rush, you are more likely to tear your asshole. This can then lead to an infection, which definitely is not what you want! When you are ready and relaxed, you'll find it easy to be pegged.
Have you tried pegging?
Pegging might be very popular, but for a large number of people they don't have a lot of experience or understanding about it. If you have tried it for yourself, you might have some tips you'd like to share.
You can do this by leaving a comment in the box below. Share your top pegging tips, or even your favourite positions and toys. You might help others who want to try it! Latest posts by Lara Mills
(see all)
---