Are Cybersex and Virtual Reality Porn 'Real'?
May 12, 2015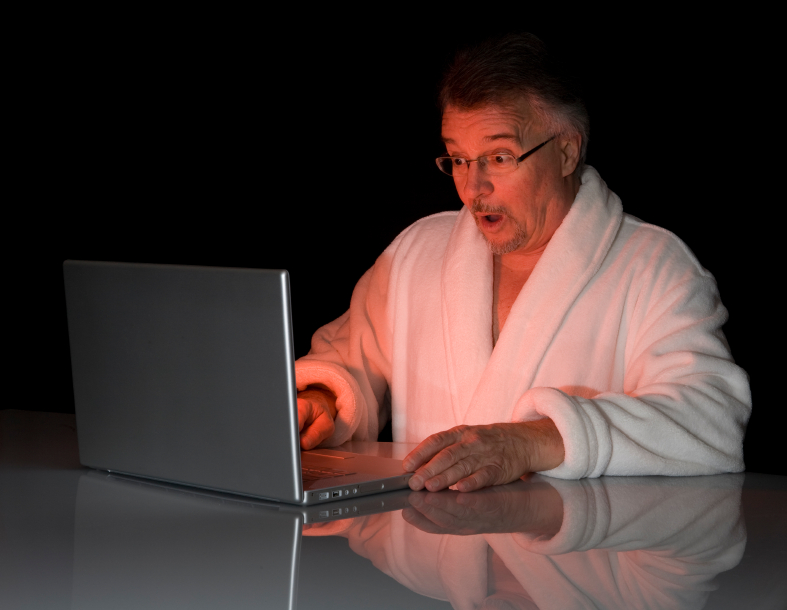 ---
For some the idea of cybersex and virtual reality porn represents the advent of a beautiful new age – where technology meets liberalism, and together they have a wondrous child called endless pleasure. We'd all like to envisage a future where our sexual appetites can be sated by the turn of a switch, and company, whether sexual or not, is never more than an arm's reach away.
On the other hand, however, many will doubt that the feeling of real sex – the sensual, flesh-heated touch of another person with you – could ever be replaced by toys and gimmicks.
So let's talk about cybersex first.
For simplicities sake, we'll refer to cybersex as any form of sexual expression across a digital medium – be it texting (sexting), email, phone calls and virtual reality. The concept of cybersex has slowly evolved over the past thirty or so years. Since the first sex note was written, and the first breathy phone call was made, it has existed in one form or another. Flash forward to the modern day, cybersex has been borne into a whole new form through the use of the internet – a glorious digital age in which masses of us are flooding to our computer screens to flash our private parts and send saucy-worded messages to people in faraway countries.
On Your Own
The obvious issue for many people is twofold. Firstly, even though it gives you the impression of not being alone, you are pretty much alone. Secondly, there is a prevailing stigma associated with those whom engage in cybersex activity; the sort of indirect implication that says that they're there because of some inability to find a sexual partner in the real world.
Both of these are, however, absurd suppositions, and a lot of the reticence towards cybersex is owed to the confused definitions around "having sex". To 'have' sex implies physical activity, but in reality 'sex' is any activity which constitutes some form of sexual expression. It's not just about what our bodies do, but what our minds do, and whether we exude sexual energy.
So in our remote, largely digitally connected world, it is easy to argue that the physical body has become, if not a redundant component in sexual activity, then at least a non-essential component. You don't need another body to bring you to orgasm, so perhaps having sex is simply about sharing in a sexual experience, whether you're next to each other, five metres from each other or a whole world away.
Really, cybersex is just another step toward skipping past the necessity of physical human contact. Just take a look at the prevalence of social media – of reserving most of our social communications for our phones and computers. Obviously, people would admonish the idea that a relationship begun, or developed, over our phones and Facebook pages would be somehow less real. So why not apply the same logic to cybersex?
A lot of the stigmas around these issues come from the arbitrary definitions that we bestow upon what is a genuine experience and what is not. It may not equate to the exact same experience (there's a reason people sit on their arms for thirty minutes before masturbating), but it is a sexual experience that would be hard to discount entirely as "not real".

But how does virtual reality fit into this?
In many ways, virtual reality porn is the next step in cybersex's evolution. It brings the experience to a whole new frontier; where the lines between fiction and reality begin to blur. Two years ago, the Oculus Rift was announced as the world's first commercially available virtual-reality headset. It didn't take long for its application to be extended to the world of porn and the pursuit of sexual pleasure, and we're now nearing the advent of true virtual reality for porn.
A Bliss Filled World
However, within these pixelated fabrications of desirous realities, the question is once more raised about the experience and how far it can be interpreted as a 'real' experience. Many will still resist it – even refuse it – until they've experienced it themselves. But for many of us, the developers behind virtual reality have become the gatekeepers to a bliss-filled world, sexual exploration abound, which in a not-too-far-away time is going to leak onto our reality like a pint of delicious milk.
So will it ever feel real?
One day, inevitably, yes. Even for those that say a true sexual experience requires the physical contact of another beating heart, it is not a question of if but when. Soon we'll have the Oculus Rift, and perhaps one day we'll have a full body suit, stimulating any point of contact that we receive from our virtual partners.
Other than that, it's hard to start throwing about arbitrary definitions about what should be seen or viewed as real. Reality will continue to be a subjective state – and whatever feels real will remain so to the individual. Anyone familiar with Star Trek will be familiar with the holodeck, a space in which any reality could be created through a few simple programs. We're not there yet, but honestly the only thing that is different is the level of immersion our technology can afford.
Of course, then we have the dangers of virtual reality addiction and the inability to distinguish between a real event and a simulated event. But that danger, which even today exists within the video game industry, is just further evidence that fiction and reality are capable of being blurred, and will continue to be so as our technology advances.
---