Real Sex – My Incredible Orgy
November 3, 2014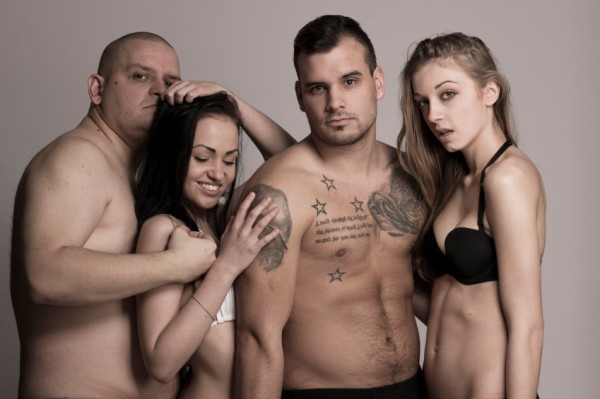 ---
I knew I had knocked back one too many rum and cokes, but the atmosphere was so buzzing, I couldn't help myself. We had united with a great posse of girls, or as my friend would vulgarly put it a 'pussy posse.' I watched as the dark haired girl danced with her friend, feeling more and more aroused as she and her friend ground together, touching each other's hair and boobs. I was buzzing with anticipation, wondering what would happen next.
It was one of those nights in London where you didn't want the night to end, having been spiced up enough to feel way beyond tipsy and horny, we invited the girls back to our impressive penthouse suite in Chelsea. We were hard working city boys, working hard and playing hard, splashing our cash at any eager pussy that came our way. Tonight was no exception, live fast, die young.
Back at The House
When we all arrived, the girls cooed at our slick flat and we shot each other knowing looks, rounding ourselves to our fridge, stocked with champagne, wine and in the freezer, chilling away was our limited edition gold leaf vodka, the perfect pick me up.
We poured drinks and clinked glasses, I put on some music, low enough not to piss off our middle aged neighbours and we jumped right back into the party spirit. My friend and I knew we had struck gold that night, the two women were beautiful, sexy and couldnt keep their hands off each other!
The girls started to kiss each other when we dared them to, brushing each other's hair back and kissing passionately, pushing their breasts against each other. I looked at my friend smugly and he winked back, as we shared unspoken self admiration. Jackpot.
We All Get Naughty
We encouraged the girls to go further and my jeans tightened with my erection as we watched them undress each other and kiss each other's breasts. I motioned my shotgun of the dark haired girl and my friend nodded, acknowledging the insinuation. I came behind the dark haired girl, kissing her neck while she kissed her friend. My friend came behind the other girl and the moment was electric as we kissed our girls and reached for both of their breasts, as they fondled each other.
We were two boys who had what many call a bromance and nothing was a big deal to each other when it came to the ladies, we had seen and done it all. I kissed the girl, drawing her legs apart and her friend immediately went to kiss her friend between the legs, teasing with her tongue while her friend moaned appreciatively. While perched and kissing her friend between her legs, my mate undressed and began to have sex with her while she gave her friend oral sex. The two girls, wrapped in the highly charged erotic moment moaned against his slams into her. My turn.
We Take Them Both At Once
I took out my cock and teased it into my girls mouth and she sucked on me while her friend kissed her pussy, I was in ecstasy and couldnt hold off much longer, I motioned at my friend and we turned both girls around so they lay on the couch, butts in the air. They were still kissing each other when we mounted them both, slamming into each of them with a tiny air of competitiveness.
I wanted to come, but couldn't come quicker than my friend, wanting to show my stamina we allowed the girls to keep kissing and touching each other, letting each one put fingers into each other as they moaned. It was sheer heaven.
They both then got on their knees and began to suck us both, one after the other, sharing the two cocks, taking us both deep. We looked at each other and gave each other the look that simply said, cha-ching.
My friend then mounted his girl, while she perched doggy style and I kissed her while he had sex with her , the dark haired girl gave me more oral sex and that moment my friend, climaxed over the moans of his girl. I decided to come in her mouth, exploding with a giant lingering orgasm that wouldn't quit.
The girls ran into the shower and washed each other we watched as they frolicked in the shower, not believing our luck. Later, we all stayed up drinking, partying the night away. Definitely the highpoint of my sexual career and one that I will never forget.
---