Real Sex Stories – My Car Sex Fun
October 24, 2014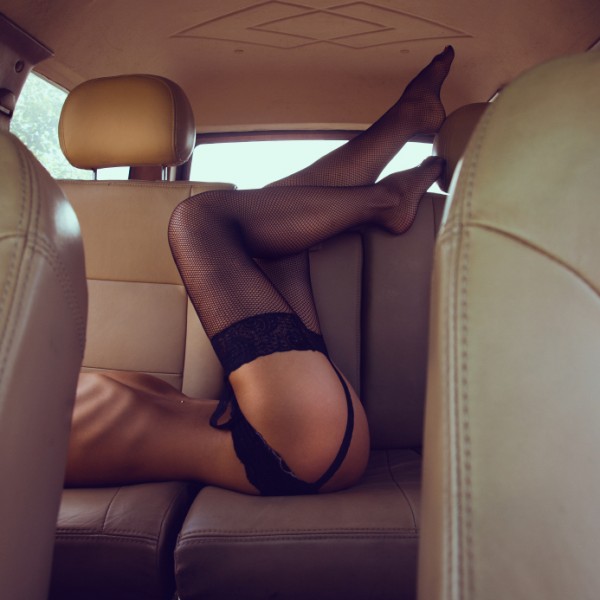 ---
Finally, after so much back and forth, we had met up. He was a guy I had been chatting with on Facebook for a few weeks and our texts had grown flirtatious. We met together in London outside a bar and I couldn't tell if there was chemistry or not, although I did fancy him. We gave each other kisses on the cheek and were friendly and welcoming enough, there was definitely a slight buzz of attraction but I had no idea what the night held.
We got seated in the bar and ordered cognacs and coke and chatted easily as if we had known each other for years. It was so easy and as we got more drunk we started to edge closer to each other, touching legs. Then he was kissing my neck softly, it moved in a kiss by kiss in a trail all over my neck. That little bit of attention drove me crazy.
Dancing Turns Us On
We got up and started dancing, him being a Latin man was amazing at moving his hips so we gyrated together on the dance floor moving with such seamless connection. I moved up and down him, pushing myself into his groin with naughty movements. All of a sudden our lips were touching and the passion was so intense I couldn't quite believe it. The world stopped as we kissed fiercely against the wall, while everybody else partied around us. We were oblivious to the outside world in that moment. He put his fingers around my neck while he kissed me up against the wall, which I found deliciously dominant and sexy.
Later, we sat back down but could not keep our hands off each other, melting into deep kisses and groping each other. I didn't have any underwear on, due to my dress being too tight and he reached with his hand under my skirt while we sat in the club, stimulating my clitoris and stroking my pussy under the table. It was my devilish heaven.
Oral Sex In The Car
We couldn't take it anymore, we had become so consumed by the passion we headed to my car and I drove us both to his house. Soon as I stopped the car, we jumped on each other, biting lips, teasing. My Latin jumped into the back and I followed, straddling him as we kissed. I released my breasts from my top which he kissed and bit, sending shivers of desire from head to toe. As I sat on him, he reached over and started to push his fingers into me, he touched my G-spot straight away, rubbing it in a way no man had ever done. I opened his flies and began to suck him and he touched me as I sucked, making me weak and moaning with longing. Then he grabbed my hair pushing me to take the cock deeper, I choked on it as he fingered me.
"Tu Gusta?" he asked me, speaking in Spanish.
"Si." I answered his question of ´do you like it´. Then he stimulated me harder making me lose control of myself and he asked me in Spanish if I am coming, in that moment I came all over his fingers, with his cock still in my mouth. It was filthy heaven.
I wanted him to come for me too, so I asked if he wanted to come in my mouth.
"No, I want your ass." He answered.
Anal Sex In The Car
I tried to resist but the passion was so intense I couldn't resist one bit. In the back of the car I propped my butt up and he smoothed some of my wetness there, making it more lubricated. He then slipped into me, pushing himself deep inside, I cried out both in pain and ecstasy, a good combination. He pumped me again and again and clutched me as he moved in and out.
"I´m going to come." He said sexily and then exploded inside my butt. It was unbelievable the passion, the desire.
We sat together afterwards, kissing again and again. I didn't want him to go, we caressed each other until about 3am, which is when he decided to make his exit home, leaving me salivating over the naughty anal car sex.
---