Real Sex Stories – My Lesbian Sex Game
November 10, 2014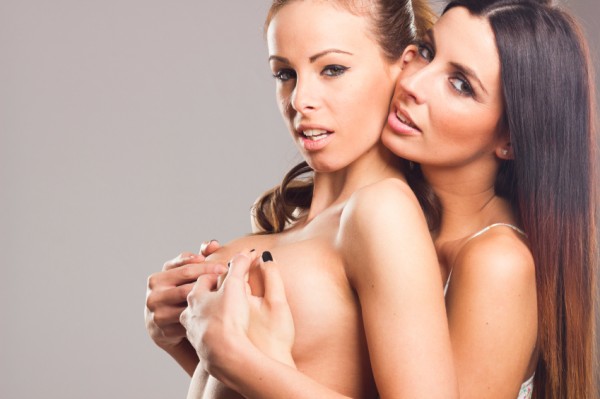 ---
I was sitting in one of the most exclusive cocktail bar and casino in Manchester, Manchester 235, sipping frosty Margaritas with my girlfriend Scarlett when I spotted him, he was leaning against the wall outside, draining the last of a cigarette. His dark hair was lying against his dark skin, covering an inch of his forehead and his hazel eyes carried a cheeky glint in them. I almost choked on my cocktail as I saw him wandering into the bar, hands pushed into his pocket, eyes scanning the room.
"Look." I nudged my girlfriend, Scarlett. "Isn't that the most gorgeous man you've ever seen?" Scarlett narrowed her eyes at me quizzically and then she turned her head to look over her shoulder, her eyes brushed over his muscular physique.
"Wow." She breathed. We had been together for a few years now and both had equal attraction towards men, though we were well and truly a committed couple. Our rule with men was as long as we were together, we could take our pick.
"Shotgun." I said quickly. This meant he was my conquest, Scarlett and I played this game often with men. But this time, she did not relent.
"No way." She said, flicking her wrist dismissively.
"I saw him first, you know the rules." I said, my eyes hardening somewhat.
"I think this one is fair game for us both." She said, a smile spreading. I nodded OK, understanding her meaning looking over her shoulder for the guy.
The Games Commence
"Let me make the move first." I whispered. The man came up the bar a few feet away and I flicked my hair and smiled at him, catching his eye. He took the cue, sauntering over.
"Hi girls." The man said. "I'm Amed." His accent was different, but I couldn't place it. His dark handsome looks suggested Asian, or Arabian.
"Hi," we both said in unison, catching each others eye and smiling, the game was in motion.
"Are you here on your own?" I asked him.
"Yes. Actually I had a business meeting. I own this place."
Scarlett and I turned to each other excitedly.
"Really? We love this place." Scarlett said enthusiastically.
Antonio looked around, taking in the chandeliers, the expensive furniture and busy vibe and nodded slowly.
"It's nice. I just had a meeting for plans to expand this place."
"Really?" I asked. "In what way?"
"We are not making use of all the rooms upstairs, we are using as office space, I want to create a Mezzanine, make it for private dinners, private parties."
"Ahhhhh." Scarlett cooed. "That sounds amazing."
"Did you get your inspiration from your home?" I ask.
"Yes, I grew up in Morocco. Now I'm here. Business is good here." He explained. Scarlett and I swapped knowing glances.
"Can we see it?" Scarlett asked. Amed hesitated, his eyes boring into mine and then Scarletts, in a confident manner. Perhaps he was trying to work us out.
"You see." I began. "My girlfriend and I want to give you some outside advice. And see if its… as private as you say." Amed understood and he looked from one to the other.
"Let me get us some champagne." Amed clicked his finger at the bartender, who immeiately retrieved a bottle of the finest champagne and three crystal flutes.
He led us up the stairs and through a private door. There was lots of room there, large sans of rooms. We came into a room which looked like a very posh office, with leather seats, a desk and a velvetine sofa. We plunged into the sofa, Amed popped the cork and we drank the bubbles down, giggling.
Straddling Him
"This is beautiful. I definitely think you should make it into a private dining room." I said, looking around admiringly.
"You could get up to lots of naughtiness in here." Scarlett said, upping the ante. With that, she leaned forward and kissed him. I was shocked, she was playing hard ball. Amed reacted by kissing her back, grabbing her closer into him. I came over as well and pulled his head round so he could kiss me as well. We kissed and then I turned my head to Scarlett, we kissed, grazing our tongues together. Amed's eyes lit up and he stared while we kissed and caressed each other, like we had done many times before.
Amed was getting hot, he grabbed both of our waists while we kissed and pulled down our tops, one by one exposing our breasts and kissed them, while we kissed each other, getting more and more passionate by the second, I loved to kiss Scarlett. Amed pulled down his jeans, as we kissed on the couch and began to touch himself, watching us kissing, I leant my head down to take Scarlett's nipple in my mouth and he groaned, enjoying the scene before him.
We undressed each other, slipping down our skirts and stood naked together. Amed motioned for us to straddle him, so we both straddled him on the couch, Amed slipped himself inside Scarlett, and they began to have sex while I kissed her back and neck, she groaned in ecstasy as she rocked back and forth on top, I held onto her pelvis and moved her on top of him.
It gets hotter
"I want to taste you too." Amed breathed to me. We swapped round and I faced Amed, slipping him inside me. I groaned loudly, the sensation was amazing, while Scarlett kissed my back and neck, giving little bites on me. I rocked back and forth, Scarlett knelt and started kissing my butt. In that moment, it was so naughty and erotic I came, which sent Amed into oblivion, he took himself out and came all over my breasts and stomach. Scarlett then came and licked it off me, Amed's eyes widened. It was deliciously naughty.

We got dressed later and came back downstairs and had one of the most fun nights I have ever had, drinking Amed's finest champagne and dancing the night away. Scarlett and I left to go to our home later that night, high and intoxicated from our naughty sex games.
---