Real Sex – My Threesome Fun
October 20, 2014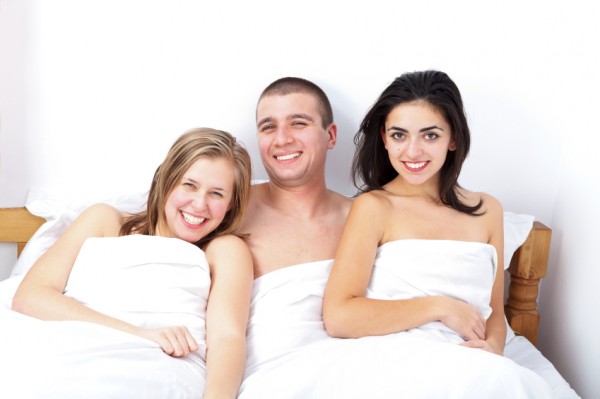 ---
My wife had been getting restless recently, we had been together for eleven years and it was clear we needed an extra string in our bow sexually. We had tried nearly everything to spice up our sex life, but one day over my morning coffee, she made my day.
"I want to try a threesome." Those few words rebounded through my mind over and over. We agreed the woman would be somebody we especially chose together and she would pamper and seduce both of us, but only be allowed to receive touch with my wife intimately.
Not wanting to try being intimate with anybody too close to home, we selected an escort for our night of passion and booked a nude massage with sensual extras.
Russia arrived on a hot summers evening, dressed in a kinky pink massage dress, she was stunning with dark eyes and long dark hair. We led her to the bedroom and my wife and I began to kiss on the bed, while Russia got ready in the bathroom.
While kissing, we both got really turned on by what was to come and I reached to feel my wifes wetness between her thighs. I was sure I would reach Nirvana at that moment or constantly be buying my wife gifts for congratulating her on her suggestion.
We lay on our backs as Russia entered, she was naked and rubbed oil all over our bodies, we were all hot and ready for action. Russia rubbed her naked body on one of us and then the other and I watched as Russia´s breasts and pussy rubbed all over my wife, making me want to explode.
The Heat is On
Russia kept teasing us with her breasts, sweeping her hands all over us individually, combining massage which relaxed and unwinded us with sensual touch, invigorating us one by one. She began on my wife some time later, running her naked body all over her then slipped her fingers near her pussy, rubbing the oil. I watched laying on my front, while my erection grew.
Russia slipped her fingers inside my wife and my wife immediately reacted, her body trembling with desire. I watched appreciatively as she thrust her fingers in and out, bringing her to an orgasm almost immediately. Wow, women really know how to please each other.
Then it was my turn, we had agreed she could touch me but I couldn´t touch her. I turned round for Russia, who took my penis betwen her hands, massaging it with oil and she began to pump me up and down, my wife came nearer, getting more and more turned on she began to kiss me deeply, taking her tongue into my mouth passionately. It was the most amazing sensation when they both joined in, kissing each other and touching each other´s breasts, bringing me to the most incredible orgasm, I exploded all over Russia and my wife while they kissed and fondled each other.
Russia made her excuses and left shortly afterwards, sensing our desire.
The Aftermath
With the naughty images running through our minds, we spent the rest of the night having sex in nearly every room in the house. Much later we we lay utterly exhausted and relieved wrapped naked in bed together. I knew the memories of that night would last us the rest of our marriage and so far it has improved our sex life dramatically. I think i´ve bought nearly every flower from the nearby florist to say thank you to my wife for the most mind blowing experience we´ve ever had.
---