Real Sex – A Walk To Remember
June 1, 2014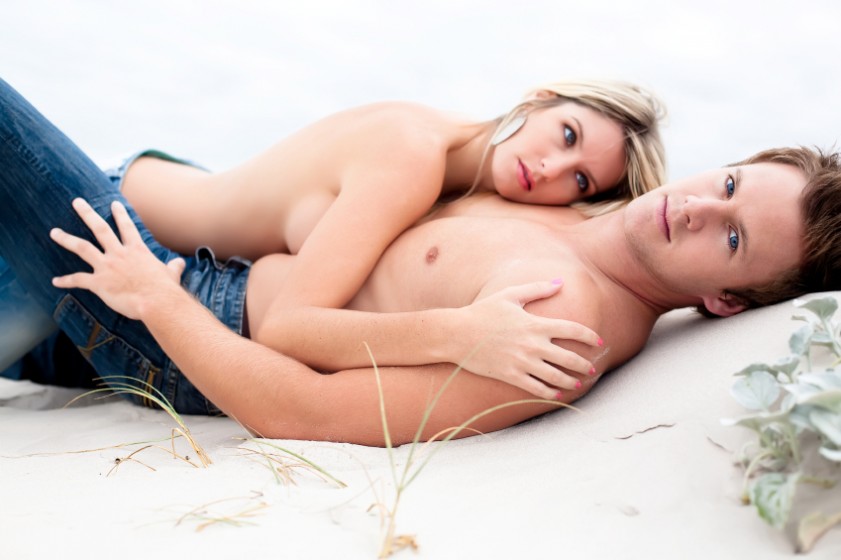 ---
Several months ago I discovered a great hiking trail in the foothills of the mountains near my home. I love being outdoors and enjoy hiking and biking alone so I can go at my own pace.
A couple weekends ago in the early fall I was hiking on the trail enjoying the cool shade at the head of the box canyon, when a woman I used to work with came around the path towards me. "Mary! Long time-no-see." I said. She was really good to see, too. She was a little bit of a cowgirl, used to live on a small ranch with her husband. At work she usually wore tight blue jeans that really gave me a hard-on every time I walked behind her.
She liked T-shirts that hugged her breasts very nicely making all the guys around drool with horny delight.I'd heard that she was divorced now and Mary was still a babe, and here she was standing in front of me wearing a cut-off T-shirt and a short, red plaid tennis skirt with small pleats. It seemed unusual to see a girl hiking in a skirt instead of shorts, but I sure wasn't about to complain.

That kind of pleated skirt is one of my favorite pieces of feminine attire because it swishes and swings as the lady walks giving a guy hope that it'll fly up high enough for a glimpse of the gal's panties. Her shirt was cut off only an inch or two below her firm breasts baring her cute bellybutton, and it was clear that she wasn't wearing a bra to contain her perky nipples.
An old friend
"Steve! It's great to see you too! How have you been?" We embraced in a friendly kind of hug, but it seemed to me that she wanted to hold on a little longer than "just friends" would do normally. I felt a little thrill run through my crotch as Mary shoved her delicious tits into my chest! Finally, we pulled apart and started to walk up the trail to end of the canyon, talking about old times.
At a couple spots the trail climbed short but steep inclines. Being the gentleman I am, I allowed Mary to go ahead of me allowing me a better view of her ass under that skirt. Once the skirt did flip up high enough to convince me that she was wearing either the tiniest thong in the world or nothing at all. Her butt cheeks looked good enough to eat and my dick jumped and strained against my jockey shorts!
A minute later Mary rounded a bend in the narrow canyon and came to a dead stop upon seeing a grove of maples in full autumn splendor. She stopped so suddenly that I bumped into her back and grabbed both sides of her bare waist with my hands. At the same time I made some comment about how beautiful the trees were, Mary sighed and laid her head back on my shoulder. Well, I took that as a hint that she'd like to get closer, so I slid one hand up under her shirt and covered her soft breast with my fingertips. There was, in fact, no bra to get in the way and Mary didn't protest one bit so I reached up and grabbed her other boob and began to massage them both gently.
She moaned and ground her butt back against my dick which by now was as hard as I've ever felt it! Mary was aware of my hardness too, and she reached a hand back to squeeze and rub my erection through my hiking shorts. Reluctantly, I raised my right hand from Marys wonderful tit to turn her face to me for a long, tongue-sucking kiss.
Among the bushes
Sometime during that hot kiss Mary had opened my fly and worked my stiff penis out of my underwear and was caressing the underside of the cockhead with her thumb. The sensation was driving me wild and my knees were getting weak. "Let's go over there under that tree", she said. Still holding my cock, Mary led me across the stream to a small shady grotto hidden from the trail by a huge boulder and some bushes. She turned into my arms for another hot probing kiss, and then I pulled her shirt up over her head.
Mary raised her arms to help me and I slid my mouth down from her neck and latched on to one of her small, hard nipples. I sucked and rolled the cherry-like nub between my tongue and upper lip and began to moan and pulled my mouth to her tighter. Our breathing came harder and heavier for at least a minute. She pulled my face up to meet her tongue for an just an instant and then dropped to her knees in the soft leaves and planted her warm lips around the head of my dick.
Oh man! This babe really knew how to suck cock and the mind-blowing sensation made my legs give out.As I sat down and sprawled back in the leaves pulling her hungry, sucking lips with me I grabbed her knees and spread them over my head. Mary lowered her panty-covered pussy onto my mouth and I hungrily sucked and licked at that sweet, warm muskiness through the thin material while she kept slurping my aching dick, moaning to keep time with my tongue. I reached up and pulled her thong string from her butt crack, slid it to the side, and started snaking my tongue up and down her wet cunt, paying extra attention to her clit which was engorged to the size and color of a cherry. She really tensed and moaned louder every time I sucked on her large, sensitive love button, and that turned me on even more … more than I thought possible. I've never had sex this good before and I've never seen a clit this large either!
Getting close
This babe must've sensed that I was getting close to shooting my wad, so she pulled my cock from her mouth, slid my shorts and underwear down past my knees, and began running her lips around the base of my shaft and my balls. Shortly, she eased her hot box up from my mouth while I pulled her thong down over her thighs and then off over her shoes. She spun around, leaving that sexy, short skirt on, straddled my hips, and started to rub my dick with her downy pussy lips pushing my shaft against my belly.
Slowly, up and down, massaging both of us but not allowing my cockhead entry into her warmth, the sight as I looked down was awesome! Marys plump, soft pussy lips were wrapped around both sides of my shaft while she stroked me. Damn what a sensation! Meanwhile I was having another picnic with her firm tits pushing into my face, my eyes, my cheeks, and of course my lips. Then, in one slow motion, Mary slid her pussy up to my belly and back down to take my hard penis into her hot, tight depths.
She took me all the way into her and parked her cunt on my balls, moving her soft, blonde pubic hair against mine side-to-side very slowly. I could feel her extra-sized clit pushing against my pubic bone and she was obviously in ecstasy, panting and shuddering! After a couple minutes of this heavenly coupling,she began pumping her hips up and down on me, her love juice squeezing out over my belly and running down between my legs. I have never experienced a woman this wet before, and I've had a few! Maybe her fantastic clitoris is especially sensitive and helps her become wetter. I was having the fuck of a lifetime and I think she was too! She rocked back and forth at the same time she lifted her pussy right to the tip of my cock and pushed back down to the hilt, her lovely breasts reaching my hungry lips and then pulling away.

Reaching the end
It took only a minute or two of this action and I hunched my hips up and shot what felt like a quart of hot semen into marys already soaking pussy. A few seconds later she joined me in an orgasm that lasted almost a full minute, our bodies staying joined at crotches and mouths while both of us gasped and panted.
Then she lifted off me slowly and once again got into a 69 on our sides and we both cleaned our mingled love juices from each others glowing organs. I've tasted only a couple drops of my own jizz before after jacking off and found it nothing exciting, but the cream shake that oozed from her lovely pussy was delicious and I didn't want to stop licking and sucking our cum from her coral colored vagina. Soon I felt my dick getting hard again.
This time I rolled her over under me, reluctantly pulled my erection from her mouth, knelt between her legs and slid into her. I lay onto her chest, began tonguing her neck, and we slow-fucked and kissed for what seemed like most of the afternoon, but it was probably only 10 or 15 minutes. Mary had already come several times and when she felt my dick start to pulse again she said, "Oh Baby, I want your come in my mouth … Now!"
I pulled out quickly and crawled up over her chest as she guided me to her open mouth where I squirted more milky sperm onto her tongue. She closed her lips around my jerking glans and sucked me dry. Oh man, what a dream come true!
---